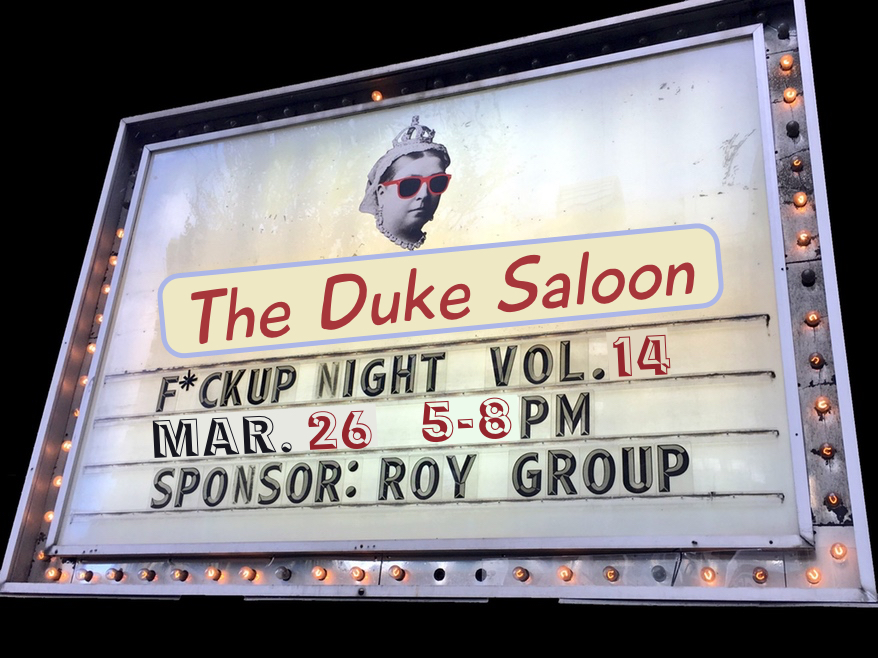 26 March 2020
Victoria
Sponsored by Roy Group
Ian Chisholm, MC
And they're back! The 14th instalment of Victoria's Fuckup Nights, where we share with you three of the city's finest entrepreneurs — and they share with you their finest stories of epic failure.
A global movement launched in Mexico City in 2012, Fuckup Nights has sprawled to encompass over 300 cities worldwide. In 2015, VIATEC bought the Fuckup Nights license for Victoria. Each event draws more than 200 audience members to listen as three entrepreneurs share seven minutes and ten slides each to tell their stories of failure — because it's through our stumbles that we learn the most. Failure is what forces us to hold up the mirror and ask those tough questions: Why am I doing this? Who am I doing it for? How can I do this differently? 
There'll be time for a Q&A afterward — and some time to rub elbows, too.
Member tickets on sale today. May we suggest buying your tickets early? Every event has sold out, and we're pretty sure this one will be no exception. We're looking forward to seeing you there!
Details & tickets:  VIATEC
https://roygroup.net/wp-content/uploads/2020/01/FupNightsVic_Mar26.jpg
658
878
Roy Group
https://roygroup.net/wp-content/uploads/2019/06/RG-logo-small.svg
Roy Group
2020-01-29 11:50:39
2020-02-05 13:35:19
F*ckup Night VOL. 14