Christina Morrison
Client Experience Coordinator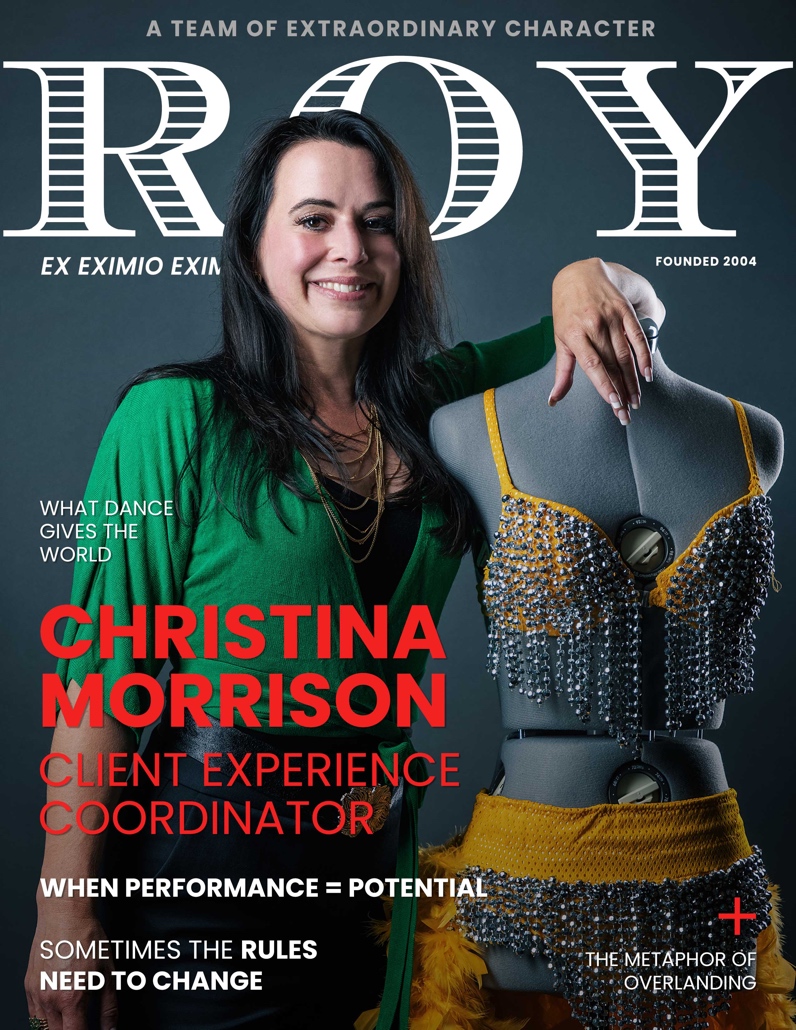 Born and raised in Victoria, Christina Morrison has explored and danced her way around the planet as a travel consultant, salsa dance team director, and world-championships judge. With masterful client-care skills forged through her background in event management (not to mention working with artists), Christina arrives ready to ensure our clients get the most from their Roy Group experiences. Her openness and ability to stay with what's unfolding instead of trying to control outcomes epitomizes our core value of Focus.
Events seems to be a great background for a client experience coordinator. What is it that you love about working in events?
I love all the thought that goes in to planning each detail. I love supporting the team through challenging times and creatively solving problems in a way that no one even remembers there was a problem. Most of all, I like making sure that the event runs so smoothly that everyone participating feels like a VIP and is able to fully focus on the reason they are there. I want to make sure that everyone comes away having created powerful moments they will remember.
Your background is more varied and dynamic than the average human. How does this breadth of experience position you for working with Roy Group?
Being the director of an internationally touring dance team, I've learned to be patient and supportive, and to work well under pressure in some crazy situations. My travels with dance and music have provided the skills needed to relate with many different personalities and backgrounds. As a leader, I've also learned the importance of remaining professional and respectful in all situations.
This is a Christina thing for sure. You're known for the level of consideration you bring to VIP customer care.
To be successful in travel, artist and event management, you need to be organized and detail-focused, and find a way to combine many different requirements while making everyone feel their needs have been met. I try to bring a positive attitude and a lot of energy to everything that I do.
What would you say is your gift, or your "zone of genius"?
The first time I performed in New York, David Melendez, director of one the most respected youth teams in NY and organizer of the event, took me aside and told me that he thought I had the gift of being able to lead in a way that would inspire others to follow their passions and achieve more than they ever thought possible. I was intimidated and skeptical at first, but he helped me organize my dance group in a way that would help me use that gift. He was such an inspiration to so many people, and he guided me until he passed away from cancer in 2007.
While adopting his assumptions has helped me lead a very fulfilling life so far, I never really took the time to consider on my own if this was truly the best definition of my gift. I feel like with everything that I have learned and experienced since then, the definition of my zone of genius is mostly correct but has room for some tweaking. I know that Roy Group uses Strategic Coach's concept of Unique Ability to organize our roles and teamwork, and so I am looking forward to having my work here serve as a chance to understand my unique ability — we call it the Leader's Gift — even more.
It's people working in their genius that heals the world. Speaking of finding expression, I hear you have a radio show?
When given an opportunity to do something new, I always try to say yes first, and then figure out later how to make it work. In 2008 I was offered the opportunity to DJ at the Puerto Rico Salsa Congress. After accepting, I realized that I had far less experience than the other DJs, was the only one without a radio show, the only non-Latino, and the only female. The only one of those I could change was to start a radio show, so that's what I did.
I contacted CFUV at the University of Victoria and asked what it would take to start my own show. In a very short time, I was hosting my own show every Saturday: Salsa Del Barrio. The show educates listeners about the history of salsa and connects our local scene to the international community. I feel very honoured to have had the opportunity to interview some of the top musicians and dancers in the world. Because of the connection we found during the interview, I've developed lasting friendships with some of those people.
Salsa dancing is important to you. What does dance give to the world?
Dance creates opportunities for people to move in unison and create shared moments. It can unite different cultures, ages and economic backgrounds. It can be whatever you need it to be: a celebration, an escape from reality — even a way to communicate. It allows you to work as a team while still shining as an individual, exceeding your own expectations and discovering new things about yourself.
So, this bit about being a rule-breaker…
Well, I don't break the rules just for the sake of breaking the rules! But I have definitely been known to step up and fight hard to have limiting or unfair rules changed. If the outcome of breaking or changing the rule will result in collective good, then I don't even think about how the consequences could affect me personally.
Wow. That's high-integrity living. How else do you live your values?
I believe that everything you do in life, big or small, makes an impact. It's important to me to do everything in my personal life and in my career with integrity and respect. I am excited about all the possibilities that life has to offer and I hope to inspire others to follow their passions and discover their potential by setting an example they can follow, setting high expectations for myself and then working hard to exceed them.
I feel like a better person just talking with you. When you're not at work, what would we find you doing?
There are so many things that I love to do and so many more things I want to try! You will probably find me spending time with my family, playing saxophone, trying a new recipe, or enjoying the outdoors.
I have a new hobby that I am just starting to explore. I recently bought a Land Rover Discovery. It starts with learning lots of new things, like how to weld and how to work on the engine. Hopefully that'll lead to some amazing overland adventures exploring this beautiful place we live in, and beyond!
What's still on Christina's bucket list?
Hmm. I've never really had a bucket list. I would rather experience and enjoy life as it happens and really be in the moment than decide on things ahead of time. I try to stay open to suggestions and that has led to being able to try some amazing new things that I never even would have thought of putting on my list. Go on tour as the sax player in a band? Sure! Become a judge for the World Salsa Open? Why not! Attend the New Year's Ball at the palace in Vienna as a VIP guest? Yes please! Hike the Inca Trail and tour the Galapagos by yacht? Sounds amazing!
I've learned so much and met so many incredible people along the way. I am thankful for all the amazing experiences I have had by just saying yes.