Jacquie Beland
Client Experience Coordinator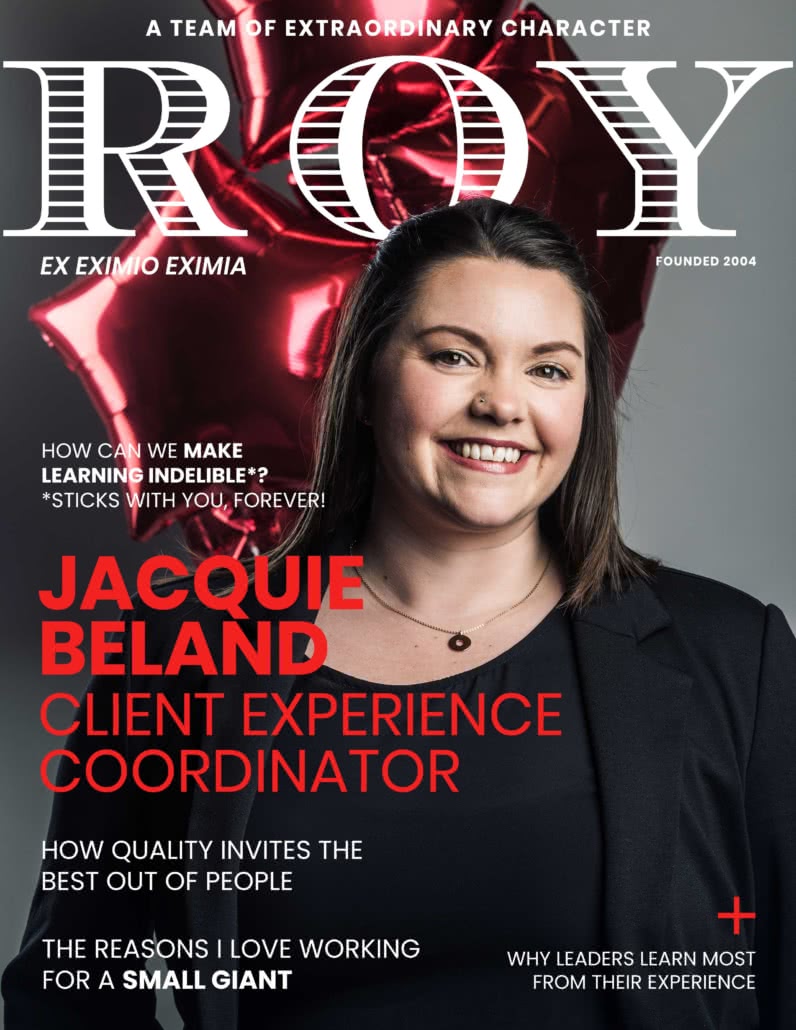 Jacquie is our in-house experience designer, and our clients' touchpoint when it comes to delivering unique Roy Group experiences. With her extensive background in corporate event planning and customer service, Jacquie brings an astonishing ability to coordinate complex events while also making sure they're as meaningful as possible for our clients. (She never gets testy when she's doing it, either.) We're pretty sure she's a national treasure.
How did you arrive at Roy Group?
After working for a big corporation for 20 years, I wanted to find the perfect fit for my life and my values: something local, something that wasn't a corporation. I did my research and discovered that Roy Group had everything I was looking for! This is a group of amazing people doing amazing things. I couldn't believe it when I was grabbing a coffee one day and found a copy of Douglas magazine with Ian on the cover. I took it as a sign that this was the right job for me.
That's evidence that you were in alignment. Tell me a bit about your background.
When I was deciding what to take in college, that old adage of Choose a job you love and you'll never have to work a day in your life was pretty useful as a guiding force. I realized that event planning was something I was very passionate about; I love to be challenged, and event planning definitely provides its share of challenges. Within two years of completing my studies at Camosun College, I landed an awesome job. I've planned galas, town hall meetings, recognition programs, golf tournaments and other community events throughout Vancouver Island and the Lower Mainland.
My Grade 12 English teacher told me that partying would get me nowhere in life. I'd love to see him now to let him know that event planning is a skill and can definitely develop into a career!
How does working with Roy Group help you share your gifts?
The work I do helps our clients get the most out of their time with Roy Group. People remember experiences. They create an emotional response, which cuts through the mental chatter and therefore helps us remember what we have learned. Ensuring that each of our clients has a great experience in our workshops is so important.
My ability to manage a lot of moving pieces helps, too. I developed mad problem-solving skills over all my years of working in a fast-paced industry. I can look at a situation, quickly assess and make a plan to tackle any tricky things. I also have plans B and C, in case my first option doesn't fly — this definitely helps when planning multiple Roy Group events with a lot of detail in each! Also, working in customer service developed my empathy, listening and communications skills so I have a good understanding of where people are coming from, what they are looking for from their event, and working within budgets. And in this day and age, with most forms of communication being via email and phone, it's so important to ensure you are listening and reading emails carefully.
All of that speaks to the Roy Group value of "focus". You seem like a pretty focused and centered person yourself. How do your beliefs inform your career?
I believe in community. Supporting our community is so incredibly important to me. With Roy Group, we are helping to develop leaders in our community. Strong leadership equals a strong community.
Balance is another important value for me. Being an event planner, it's easy to allow it to consume your entire life! Understanding when to step back, letting others help with pieces of events, and knowing when to say no is important to ensuring I also have energy for my personal life. Roy Group understands how important it is to be able to 'turn off' when necessary. Everyone here is willing to help you out to achieve balance.
And maintaining your balance helps you keep the quality high. How does quality inspire the best in people?
If quality is set as a company value — and it is for us — people naturally want to deliver value through performance, innovation and service. When you care about what you and your colleagues are trying to achieve, and when you're committed as a team to bringing the highest quality to your clients, you naturally provide your best customer care experience. You want to achieve incredible results for your clients.
So for you, it's all in, all the time? Is this why you quote Zita Cobb as saying, "If it doesn't mean something, it doesn't mean anything"?
Right. Why go through the effort is it isn't meaningful? Humans seek meaning in all of our experiences. Our Roy Group experiences cultivate relationships and help people create bonds with each other. They create narratives that help people understand themselves better — way better — and they create a new sense of purpose and perspective in their work lives. And usually their personal lives as well. My hope is when our clients leave our workshops, they have a new outlook, and a newfound desire to be the best version of themselves.
What's the best part of working at Roy Group?
The team is a phenomenal group of supportive individuals who want to see each person contribute their absolute best, and to help each along with this they encourage, train and offer support. Everyone is there for each other to pull pieces together. Everyone is encouraged to add their ideas and input into meetings, too, and into how we can be the best we can. Again, the work/life balance is important; Roy Group offers the opportunity to work remotely, so quite often I am able to work from the comfort of my home. I love working for a small company — it's a welcome change after living the corporate life!
So when you're not planning courses and events for Roy Group, what would we find you doing?
Working on my own event planning business, volunteer event planning (like for Crohn's & Colitis Victoria Chapter), planning birthday parties for friends . . . I really love event planning!
When I'm truly not working, you'll find me hiking with my husband and friends, camping, and enjoying the great outdoors without cell reception. I am a music festival and concert junkie, so you'll find me at local festivals and concerts, supporting local music — or just chilling on my couch, listening to music. I absolutely love listening to the CBC, especially Drive with Rich Terfry. I love cooking, too; I often spend a good portion of my Sundays meal planning, grocery shopping and prepping meals for the week.
What do you do that's a little weird or different?
I collect CDs. You can often see me browsing CDs in Lyle's Place or Ditch Records here in Victoria. I also still rent my DVDs from one of the few video stores left. I like supporting local and they have a better selection than anything online. Most of my friends think me renting DVDs and buying CDs is very weird! I now have a turntable, too, so watch out, world! My husband and friends have got me off to a nice start with three records: Amy Winehouse 'Back to Black', Arcade Fire 'Everything Now' and Metric 'Art of Doubt'. Sooo good on vinyl!