Anna Lisa Bond
Learning Lead, Integration and Coach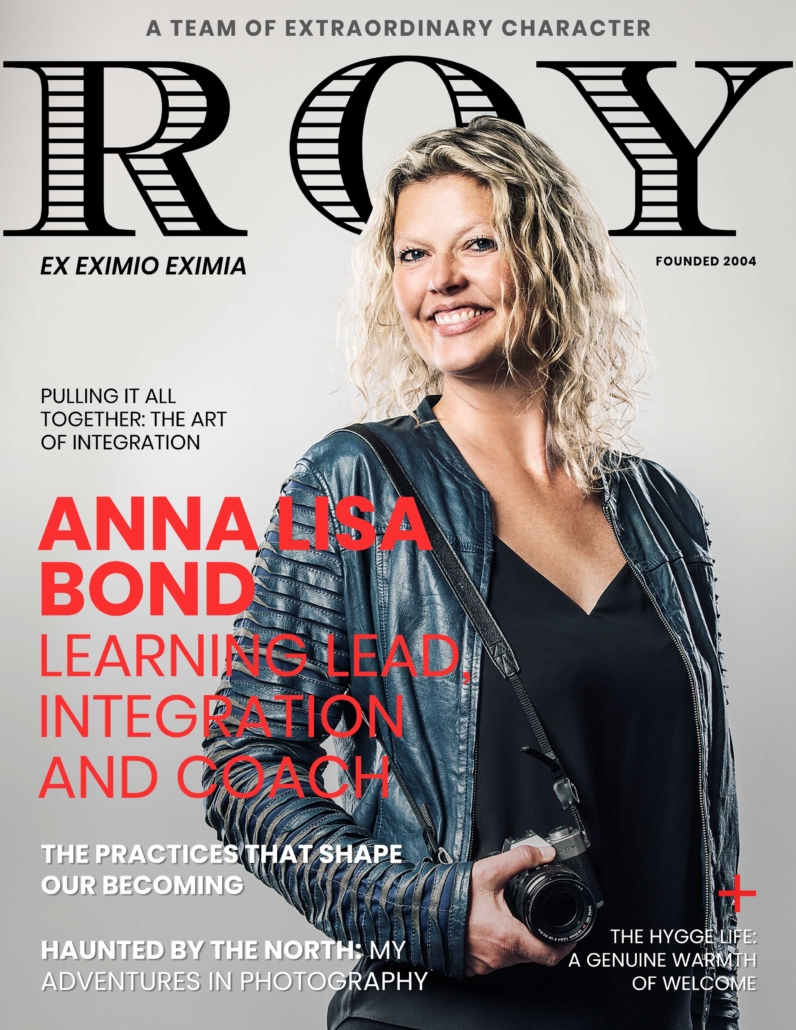 A consummate learner — and a peerless teacher — Anna Lisa Bond is on a constant quest for the highest expression of creativity and her deepest power in bringing others toward human betterment. Discerning (she understands the difference between what's important and what is not) and devoid of judgment (man, can she hold space), Anna Lisa has long been a companion traveller with Roy Group — and we are better for it.
Anna Lisa, you are what we call Roy Group royalty: highly regarded by the entire team, much emulated by your peers and clients. What was your path here?
Oh, royalty! That's kind of fun. Well, I was introduced to Ian around 2009 through a mutual friend who also does coaching and leadership work. Ian and I discovered that we had each experienced a similar introduction to this world of developing leaders, starting with ourselves. This was the first signal to me that there was some foundation of alignment. Once I had taken the Leader's Discipline, I knew that I was in the right place: work that was real, work that was deep, work that was about the individual, regardless of their role at work or in society. It was a launching pad for me to work with teams to create some much-needed stories in the world.
And before that?
I travelled the world for seven years after high school. When I finally came back, I went to school and got my Bachelor of Education. I'd been dreaming of being a teacher since I was four years old! That path led me into leadership as an administrator at the middle and elementary school level. I led two schools through their reconfiguration to a middle school model. This involved a great deal of emotional change for staff, families and students, as well as navigating difficult conversations with construction crews, boards and people struggling with the unknowns on the horizon. When I left teaching, I went back to being a student, pursuing my graduate certificate in executive coaching at Royal Roads University. At the same time, I was completing my four-year training as a Feldenkrais practitioner. I have my PCC level of coaching and am currently working on my MCC.
What do you see as your gift, and how do you bring that forward in your work with Roy Group?
I have worked in many different environments, including the education field, which is pivotal in developing human beings. I believe what I bring from all of this experience is a genuine capacity to create and hold space for people, free from judgment, to explore and express while expanding into a new and empowered sense of themselves.
There is a word in Danish that we use a lot in our family: hygge. I like this quote that sums it up best: "…the art of building sanctuary and community, paying attention to what makes us feel open-hearted, courageous and alive." I see myself creating these spaces with our clients — safe and sacred spaces to be honest and real, while emerging on the other side with a sense of clarity, capacity and courage to do what needs to be done.
That's an awesome thing to bring to clients. On top of Roy Group's other leadership tools, no less. Tell me more about hygge.
Hygge is a dear word to me. It is of my roots and has become part of my way, even before I realized to what degree. My mother is Danish, and I was fortunate to have a very unique and special relationship with my Mormor (that's my mother's mother). I learned my Danish from her, finding ways for us to communicate as we developed a very special bond across the ocean, and following my first trip alone to see her at 9 years of age. Danish tradition is rich with ritual, light and communing. The darkness is welcomed with connection, food and nourishing indulgence, with candlelight and good folk around you. It's about creating a feeling of connection, wellbeing and warmth, as well as a feeling of belonging, both in the moment and with each other.
It's a feeling I get when you're around, and I know others do too. Given your connection to hygge, it seems like you've found your sweet spot with what you do for a living.
Yes! The work that is most important to me is to pay attention to the being in front of me; to listen and to be discerning; and to be honest and compassionate, while helping to position that person to continue to strengthen their own sense of being, power and contribution they want to have in this world. It's really big, really human work — much more than we typically think of when we consider the word coaching. But it is that.
My purpose is to help others to become the fullest expression and most aligned sense of themselves so that they live a thriving and meaningful life. We walk this work of ourselves alongside one another. I learn from you and you learn from me. There is an exchange that happens when you get to work with people the way I do. It's really about taking advantage of this life, shifting from knowing and doing to being — the beauty of being in whatever form that is authentic for each person.
The hard work you've done and the challenges you've faced on your own personal road have brought you to this place. And now you're in a position to share this strength — this light — with others. That's pretty awesome.
I am really proud of the inner work that I have done and continue to do. I truly believe when we tend to the inner systems and landscape of our being, the outer landscape naturally benefits, and I have much more to offer and to create with from this place. I am also very proud of my capacity to create a sense of trust and compassion with total strangers while being able to be direct, honest and kind. This has helped clients to really raise their own game and tend to not only the outer, but the inner territory as well.
I am also keenly aware of the capacity that is available to us through our whole self. We tend to operate from the head up — the mind — and there is so much intelligence and information available to us through our entire body/self/system.
Can't let you go before we talk a bit about your photography. What did you find so arresting about the North?
In 2017, I began a stravaig — a wandering — through the landscape of the North. My journey took me to the Isle of Skye, the Outer Hebrides, the Orkney Islands, the Faroe Islands and Iceland. Each of these landscapes mirrored something of the one before, while revealing its own secrets of survival and emergence. As I travelled the remote shores and vast valleys, I found myself walking the edges — the space between. They beckoned to me, and begged to be listened to. It was such an invitation into the living landscape that surrounded me; it shaped and reflected the inner landscape of my being. My visits were some sort of call — an invitation to connect to my ancestral story, to explore the connection of my own spirit with the land and the sea — and the space between. I held my first exhibition in 2019, at the Fortune Gallery in Victoria.
When you're not leading or coaching, what would we find you doing?
I enjoy being in the outdoors and in nature, especially being on the water. I love travelling and photography. And learning new things. And resting in the hammock with a cold delicious beer in hand. It was always my dream to be the first female brewer in Victoria. I missed out on that opportunity . . . so now I just get to try all the new beers and keep my taste repertoire in check!