Sylvie Leppig
Client Experience Coordinator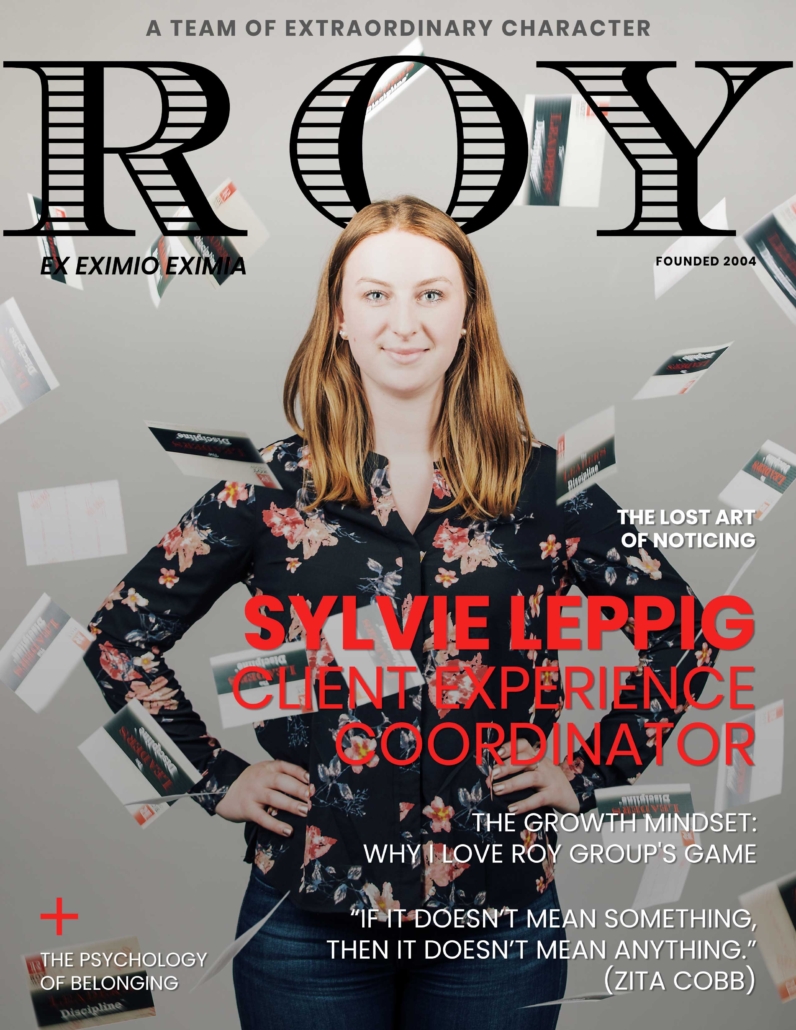 Sylvie Leppig keeps our planes in the air. She takes pride in ensuring that the learning leads can work without a hitch: that their materials are on site and ready, in the right quantities, for every session. Clear-thinking and pragmatic, Sylvie is gifted with the ability to see slightly more in any given situation than appears obvious to other people. It's like how a dog can hear different frequencies, or how a beetle can navigate by the stars: just a bit beyond regular human capabilities. She's kind of magic like that.
So here you are, Sylvie, a part of this fantastic team of people when you least expected it! Tell me about the path that led you to Roy Group.
Donna Horn (our Practice Lead for Public Service), who I know personally, asked me if I wanted to help organize and pack up the Roy Group stickers that go out to each facilitation. Originally I had only planned to help out for a day! Over time, my role has expanded to its current iteration.
That's awesome. Roy Groupers are always happy when they find someone who really gets it. What's your background?
It's varied! I grew up in Northern California, where I attended primary and secondary school in a small town on the coast. I then moved abroad to spend a year in Belgium learning French, expanding my view of the world, and living with a host family. In 2019 I completed my degree in psychology at the University of Victoria. During that time, I was fortunate enough to spend a summer working in the Kootenays and a semester abroad in Wellington, New Zealand. Eventually I plan to continue my studies in another country, hopefully in forensic psychology.
What drew you to psychology?
Psychology is such a versatile field that can be applied to so many different occupations and positions. It's a great fit for Roy Group, which is all about the way humans interact with one another and with their environment. I really enjoyed all of the neuropsych courses that I took, especially a course on brain injury and rehabilitation. But my favourite course was Psychology and Law. That's what sparked my interest in forensic psychology. My next step is to study at the master's level. My end goal is to improve the criminal justice system, helping to implement changes that prevent recidivism and encourage early intervention for at-risk youth.
What's your gift?
My eye for detail and my ability to connect with others. (That's two, I guess.) My experience living and working in a number of different contexts and geographic locales has helped me gain an appreciation for individual differences. That, and I often pick up on traits in people that others may not be aware of. My psychology background plus my general curiosity about people has helped me understand and interpret little nuances that others might miss. I love to observe the world and examine people's behaviours to figure out what makes them tick. I feel it's important to practice awareness of others and their needs; it's a valuable skill to be able to pick up on someone's nonverbal communication and kinesics (that's psych-speak for body language). Communication is key to everything — much more than most people even begin to understand. A person can gain a lot of context in face-to-face communication that is often missed in today's increasingly digital world.
True that. There's nothing like sitting down with a person to get a full read of their personality and abilities. Let's go a little deeper, to the level of beliefs. What do you believe in and how does that inform your career?
I believe in the power of the greater good. I absolutely believe people are capable of change, and therefore we should support and encourage an environment that promotes a growth mindset. Human betterment is the most exciting game on the planet. Growth never stops; there are always opportunities for people to grow, and one of the most exciting aspects of that is that through its work, Roy Group creates a ripple effect of positive changes in other organizations.
Yes, they do. I like your term, "human betterment". That's very much what the work is about. It's about growing as a leader by developing stronger, richer connections with other people so that they, too, can grow and become "better". Tell me why a sense of belonging is so important.
There's a driving human desire to be a part of something. Although belonging isn't one of our three innate psychological needs, relatedness is (along with competence and autonomy). Every human needs to relate themselves authentically to another person or persons in an emotionally meaningful way in order to be in a place of wellness. There's a universal truth that we grow the most through our relationships with others. And even though relationships are a struggle sometimes (that's what Roy Group is here to help with!), they are also our source of greatest joy. Humans often feel most strengthened when they feel connected with others.
Zita Cobb, founder of Fogo Island Inn, really inspired a number of Roy Group members when they travelled to Newfoundland in 2018. Cobb is a super intentional, super purposeful person who once said, "If it doesn't mean something, it doesn't mean anything." How does her statement connect with Roy Group's work?
Zita's words reflect the importance of quality, and that's a huge driver for us. It's one of our core values, actually. What's the point of doing something — completing a task, having a conversation, whatever — if you aren't going to give it your all, get the most out of the experience and deliver something positive in the process? We're super committed to delivering a quality experience, in every way we can think of: hosting our courses in beautiful venues; offering excellent food and drink; engaging rich conversations, both inside formal sessions and out; providing quality materials to write on and learn from. And of course, we have chosen the best humans we can find to be the Roy Group practitioners, and to help us do this work in the world. What we do is worth doing well.
Why is noticing an art, and why is it a skill worth developing?
There is such importance in paying attention to details. When you're talking about human interaction, people learn the most when they take pause and attend to the small details — the things most worth investigation. So much is often unspoken that you have to pay attention to what is not said in order to capture the full picture. In today's world, people often lose sight of the context while focusing on the end goal.
When you're not packing stickers, shipping boxes and changing mindsets, what might we find you doing?
If there's free time, I like to be either outdoors or in the kitchen. I love to go on road trips, and camping or backpacking. I'm always planning my next trip to countries I have yet to visit! You can also find me in the kitchen baking or creating a new recipe or cocktail. Sometimes down at the beach, looking for wildlife, or in the garden, tending to the flowers and the vegetables.
Secret talents (besides your mad skills in picking up on nonverbal cues)?
Ha! Hmm. Well, one of my secret talents is that I played violin for 14 years. I actually performed with my orchestra in London, and in New York City at Carnegie Hall.