Aileen Graham
Logistics and Inventory Coordinator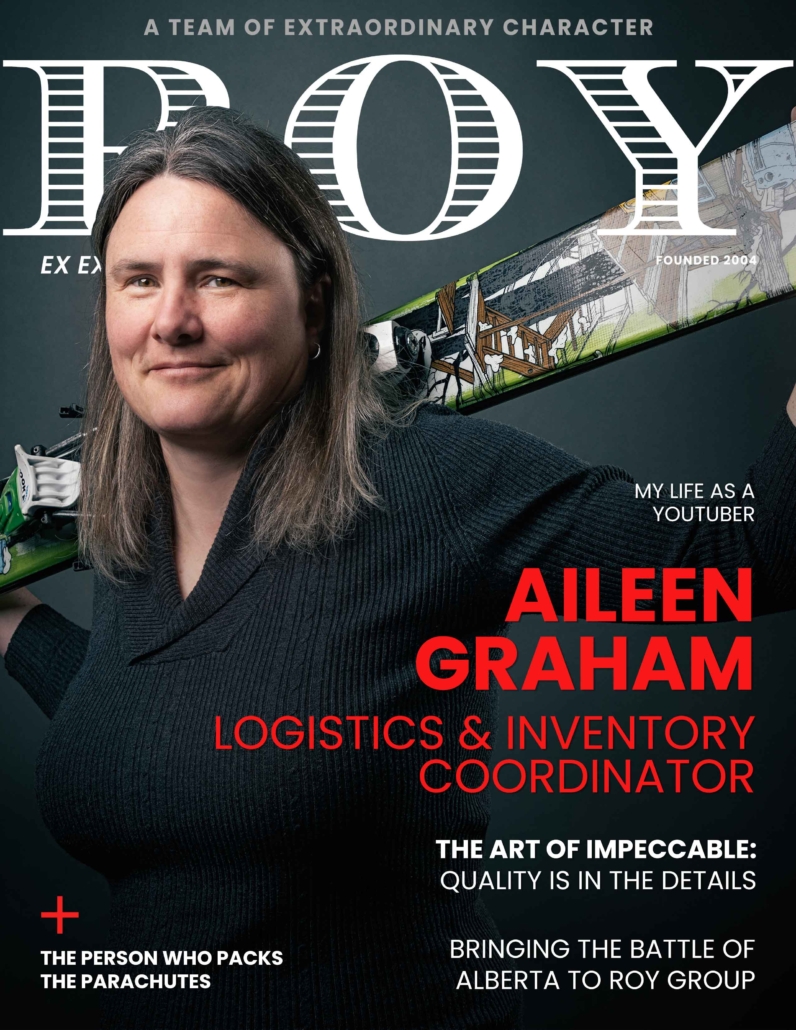 Working out of HQ, Aileen Graham oversees the care, storage, shipping and receiving of all the gear and materials required for Roy Group's client-facing work. Growing up ski racing and mountain biking in the mountains of Fernie, BC, Aileen graduated from the University of Lethbridge with majors in both psychology and philosophy. Having run her own cleaning business previous to joining Roy Group, she brings a keen eye for quality and attention to detail—attributes our clients have come to know us for.
Your arrival story is great. Can you share with us how you found your way to Roy Group?
I wasn't feeling particularly challenged in my former job, and I was looking for a change. And even though I'd been searching for ages, this posting was the only one I actually applied to. It the only one that just popped and said: "Apply for me. This could be a cool experience." It was the way the job description was written. It seemed so natural, like: "We know this sounds weird, but you might have to pack tennis balls one day and stickers the next, and yes, that's weird, but this is an okay thing." And I liked that sort of weirdo-ness. It's down to earth and real.
Something about you gave us the confidence that you're exactly the one to whip HQ into shape. Curious about what you think that certain something is?
Having successfully run my own cleaning business for over a decade schooled me in task prioritization and time management. That's very much what Roy Group would call my Leader's Gift: it's along the lines of organizing and planning my work with both expediency and detail in mind. My background in philosophy fuels my natural sense of curiosity and taught me the constructive value of asking questions. I'm bringing a "How can we do things more efficiently?" approach to HQ.
I'd also say my sense of humour is in my zone of genius. I try to keep things not too serious. If people are having a laugh, they're less stressed and enjoying their work more.
Day one on the job, you figured out that, uh . . . key decisionmakers, shall we say, are Oilers fans. Word has it you wore your Calgary Flames sweatshirt the very next day—and then immediately converted our finance coordinator to being a Flames fan. Feels bold. Who are you, really?
[laughs] Well, growing up in Fernie (which is right on the Alberta/US border in the corner of BC), it was closer for us to go watch Flames games. Canucks games were all the way on the other side of the province! My dad took us to a bunch of games growing up, and I watched the Flames win the cup when I was ten.
Fernie sounds like an idyllic place to grow up. Small mountain town, and all that great powder in the wintertime. You were a ski racer.
Yeah, my parents put me and my brother and sister into ski racing. I loved it. Now that me and most of my family live on Vancouver Island, I go up to Mount Washington a couple times a year. My brother is still in Fernie, though, and I always do a trip back to the Kootenays. And my best friend lives in Golden. So I do a few days at Golden, a few days at Fernie.
What do you wish you could go back and tell your younger self?
Not worry so much, and that things will fall into place. When I was at university I felt like, "I have to choose a career like my parents and do that career for the rest of my life." It didn't turn out that way—but things just fell into place. I wanted to be my own boss for a while, so I found a way to do that. And when I finally grew tired of being my own boss, I found Roy Group. Same with partnership. I thought I was supposed to like guys, and I worried all the way through high school that I might never find anybody. But it worked out: I have a wonderful partner now.
Already we love your YouTube channel. Scrap wood, beer and Skil saws? Sign us up. When did you decide this was a contribution you wanted to make in the world?
I wanted to build a greenhouse, but don't really know how to build things. I thought I could learn on YouTube. The problem was, the videos I watched assumed you already had basic carpentry skills. Knowing how to use a Skil saw, for example. So, I thought I'd make a how-to video for people who don't know how to build things, by someone who doesn't know how to build things. I get lots of ideas. If I'm doing something in the yard and I'm like, "Wouldn't this be hilarious?" I'll go get the phone. I only do one take. Whatever happens during that one take happens. It really just turned out like a comedy show.
You've at least built that great cold frame to grow your seedlings in. Talk a bit about your love of gardening.
I love spending time outdoors, and the experience of growing my own food. From seed to table, it's very satisfying. I go snorkeling to catch crabs, too. It's along the same lines as gardening: I'm able to source out my own food. I'd love to be self-sustaining. Just even from an environmental perspective, not having to have all my food shipped to me is a step toward being able to survive on my own, even if it's unrealistic to be able to do so 100%. I like to take the opportunities that I can.
Pretty sure you're the only person on the team who goes out in flippers and a mask to pick up dinner. How did the crab snorkeling come about?
There's a little island just off this beach in Sidney that my partner and I hang out at. One day I saw these guys going out in their scuba gear. They had the weight belts and the marker buoys that tell people they're under the surface and stuff . . . and they were just grabbing crabs. I thought, "I could do that." So I went home and printed out my fishing license and got my snorkel on and grabbed some barbecue tongs. I really don't think you need all the diving gear that those guys had on.
We give you major points for vitality and creativity. If you hadn't ended up here, what other career might you be doing?
I would have done carpentry, I think, so I could learn how to build things. Because as you can see from my YouTube channel, I don't know how very well!