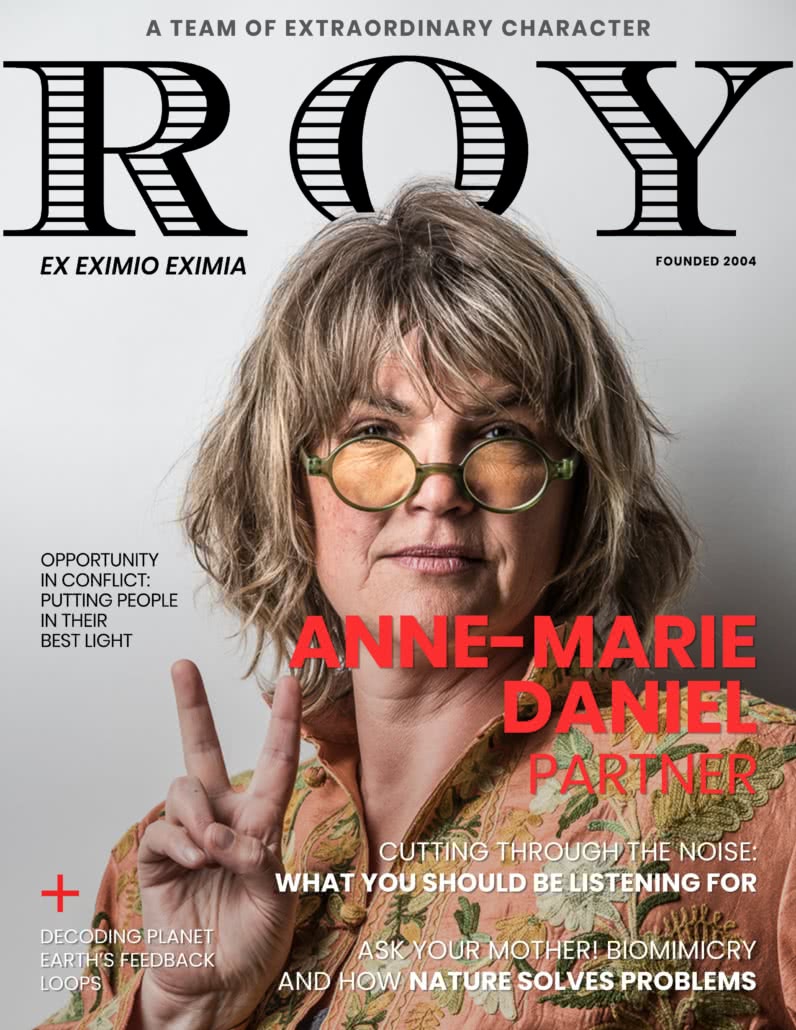 Perhaps the group member who is the most tuned in to creativity — one of Roy Group's core values — Anne-Marie Daniel is a self-taught business person who operationalized Roy Group's desire to help clients harness the free energy of communication to create meaningful feedback loops that amplify performance. Well loved by the entire team, Anne-Marie brings a depth of empathy and feeling that allows her to really tune into our clients' needs and respond accordingly. She makes people feel valued and cared for, no matter how much complexity they arrive with. Anne-Marie understands that this is where the work begins.
Anne-Marie, I don't need to ask how you arrived at Roy Group, because you're one of the founders! But maybe talk a bit about how the company came to be.
Sure. I met Ian while I was working as a mediator and conflict resolution practitioner in Vermont. He was working in New York delivering programs for youth interested in business. After we worked together a handful of times, I fell flat on my face in love, and soon left my mediation career to move to Scotland with him when he took the role of CEO of Columba 1400.
We started Roy Group in 2004 to offer Canadian leaders an opportunity to develop through deep learning experiences, and through meeting other leaders from across sectors, generations and disciplines. We were just back from five years on the Isle of Skye, where we developed curriculums for such diverse groups as the British army, children in care, banking and investment firms, agricultural and community development associations, and schools. This gave us a good grounding in developing curriculums that broke down learning and social barriers. I now lead Roy Group's conflict resolution work.
What's your education?
My bachelor's degree from Concordia is actually in theatre design! It gave me an appreciation and aptitude for collaboration and creativity. I also hold a graduate certificate in mediation from Woodbury College. After 25 years of facilitation and mediation, I have an ability to focus the attention of a group, equalize participation and keep the energy productive. More recently, I obtained my Master of Science in Biomimicry from Arizona State University. I am one of a small but growing number of certified biomimicry professionals. My focus is learning about how Nature solves problems. 3.8+ billion years of R&D offers a refreshing innovation space to clients, and an important area of learning for leaders who want to align their products and services with the planet's.
What does Nature teach us about how to solve our problems?
Nature is a fabulous designer, and biomimicry is the practice of looking to Nature for design strategies. Nature's innovations are adaptive, locally responsive, life friendly, resource efficient, high performing, and evolve to meet present and future needs. Take climate change: we're only here because Nature evolved by converting greenhouse gases into water, sugar and oxygen. Nature has solved just about every problem there is. Nature is the expert in the room — serious Level 5 leadership.
What about your background experience is your gift?
I had some bad experiences early in life that caused me to lose confidence and to need to find my voice again. This gave me compassion and understanding for others who struggle to speak up. I've been advocating for what's important to me from a young age, writing letters to various leaders about what worried me, and sometimes organizing people to collaborate toward a solution. If an issue is important to me, I find myself doing something about it whether I'm confident in my abilities or not. I get started rather than waiting until I have all of the pieces nailed down.
How do you bring forth that ability with your Roy Group work?
My ability of organize information and facilitate has supported the company in both learning from our past and moving forward. Engaging difficult conversations and resolving conflicts are key to leadership. We help our clients develop skill with conflict resolution. We ground our methods in well-researched theory and years of applied practice. It's exciting to have such good people to work with who have high integrity and are very skilled and creative! I really enjoy the variety of approaches and perspectives people bring.
You are renowned for your skill in listening. Ian says it's almost like you can hear a different set of vibrations. What should we be listening for?
Listening past the digs and jibes for what is irking someone helps me to stay focused on what 'better' needs to look like. Interest-based negotiation has been around for quite a while, and there's a lot of talk about win-win, but many people interpret that as looking for compromise. Listening for interests is about finding a higher level of satisfaction: Is it possible that all parties can have most or all of what they need addressed? How is what's happening getting in the way of what they need? Knowing how to listen for interests helps me cut through the noise and sleuth out the critical information that I need to find a solution that works all around. In this way, there is less time wasted talking in circles, less damage to the relationship, and a fairly quick path to getting on with life.
You seem like the kind of person who reads the world deeply. How has your career grown out of your values?
At 16, I knew that the world was repeating destructive patterns despite lessons like the Holocaust, the civil rights movement, the destructive effects of residential schools, senseless wars, the cold war, Chernobyl and other pollution disasters. Acknowledging the problems is important, but then I need to focus on solutions or I get depressed. Mediation has taught me how to focus on interests and build understanding around values. Finding the practice of biomimicry has been a huge relief, because Nature has evolved elegant designs to protect itself and thrive.
You are the driver of Roy Group's contributions in the environmental space.
Right. Roy Group is a 1% For The Planet company. I feel glad that we can support watershed restoration, eelgrass planting, environmental education, species mapping and ecological reserves as an added benefit of our work.
What fires you up about working with Roy Group?
Seeing schools, government organizations, small giants and the networks of organizations that build communities all doing important work, and all seeking to get better at their work. By creating shorter, more frequent feedback loops, by having courage around conflict, and by practicing asking more questions, their work becomes more satisfying. Roy Group supports them in making sure these habits are sustained in their culture.
When you're not coaching people on how to conduct themselves through conflict, where would we find you?
Ah, being outside fills my soul. I'd be outside on a brisk walk, or maybe just standing around in Nature, watching changes happen. Sometimes you'll find me researching, creating, writing or teaching through NatuR&D, a Roy Group company. In 2019 I travelled to India's largest tiger reserve, where I co-facilitated India's first biomimicry immersion workshop on Nature's chemistry. I created the event so that I could learn more about chemistry, which I barely passed in high school.
It's amazing how you came back to it. But of course, it makes sense that you'd be happy to learn chemistry in the line of your work, because it's relevant and fascinating now…where perhaps it wasn't really relevant in the classroom. Tell me about your special talents. You're quite a creative soul.
My youth could have been a career in macramé! I spent all my pocket money on string and beads. After a few years as a set costume and lighting designer, I put myself through mediation school as an apprentice clay whistle maker to Delia Robinson, one of the world's most famous whistle makers. I have a huge collection of animal wear that I created out of recycled materials so I could learn accurate markings and features of various animals. The hats did double duty, because I used them to teach conflict workshops on Skye. I am happiest when I am creating something. We are creative beings. We just need to use materials that are in sync with Nature's systems so that we avoid making beautiful trash.