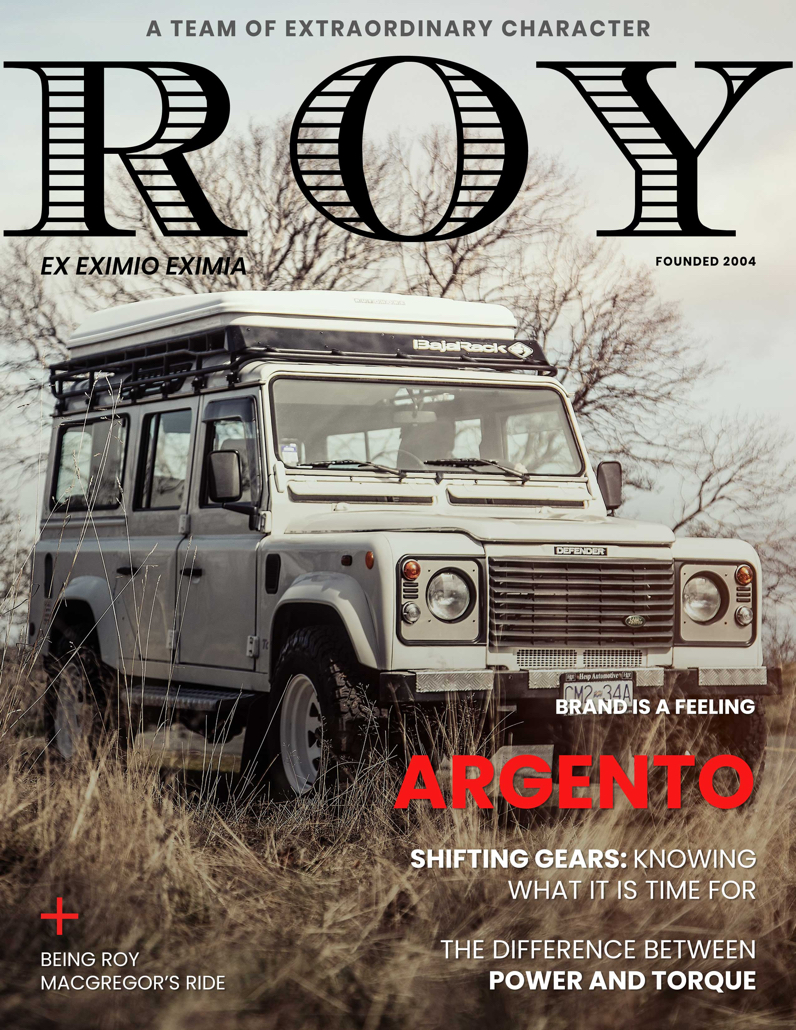 Modest. Formidable. Iconic in construction. And cool enough to anchor a magazine shoot. Argento is Roy Group's transport for team members, gear and learning materials. Originally from Mondrio, Italy, Argento is a 2000 Land Rover Defender 110 — best known for a distinct purr, infamous turbo jumps to hyperdrive … and a mysterious South Pole expedition sticker above the right rear window.
Argento. I've heard so much about you. How did you end up joining Roy Group?
I was imported from Mondrio, Italy to Montreal, and driven across the country by a wonderful little family. After a winter on the coast, they decided to go back to Montreal and the call was made for me to stay here. That's when Roy found me.
I think the team has been very happy with the discovery. What would you say is your superpower?
I'm not a Discovery. I'm a Defender. And power is not really my thing. Torque is.
Oh…what's the difference between power and torque?
Well, engines create both. Power is about how rapidly work gets done. Think of it this way: Some vehicles will tell you how quickly they can get to 100 km/hr. That's power. Torque is the rotating force produced by the crankshaft. The more torque you have, the greater your ability to perform work. It takes me a while to get to 100 km/hr. But I can keep making ground where a lot of other vehicles can't.
What do you believe in fiercely?
That we are not built for easy. And that there is always a way.
You get to ride around with a guy who has a lot to say about mentorship. You must have some amazing conversations. What do you understand about mentorship that you wish everybody knew?
That it is not efficient and slick and polished. It is effective, but it takes time. It is more about being honest than it is about being impressive.
Mentors are humble sorts, it sounds like. I guess our world has it a bit backwards. Argento, you sound pretty with it. How do you always know what it is time for?
It's about picking up on weak signals — an ability that comes with experience. When you've been around the block a few times, you notice what's really going on around you. And you adjust to that. It's all about context.
Is it true what they say? That you're finicky?
That's fair. I have pretty clear preferences of how I like to be treated.
Tell me about that mysterious South Pole expedition sticker.
Official Secrets Act. I'm sorry.
Any special interests or weird capabilities? What about those turbo jumps to hyperdrive?
I do have a turbo diesel (TD5) engine. Jumping to hyperdrive is not a real thing. It's something that the Millennium Falcon does in Star Wars. But thanks for the compliment.