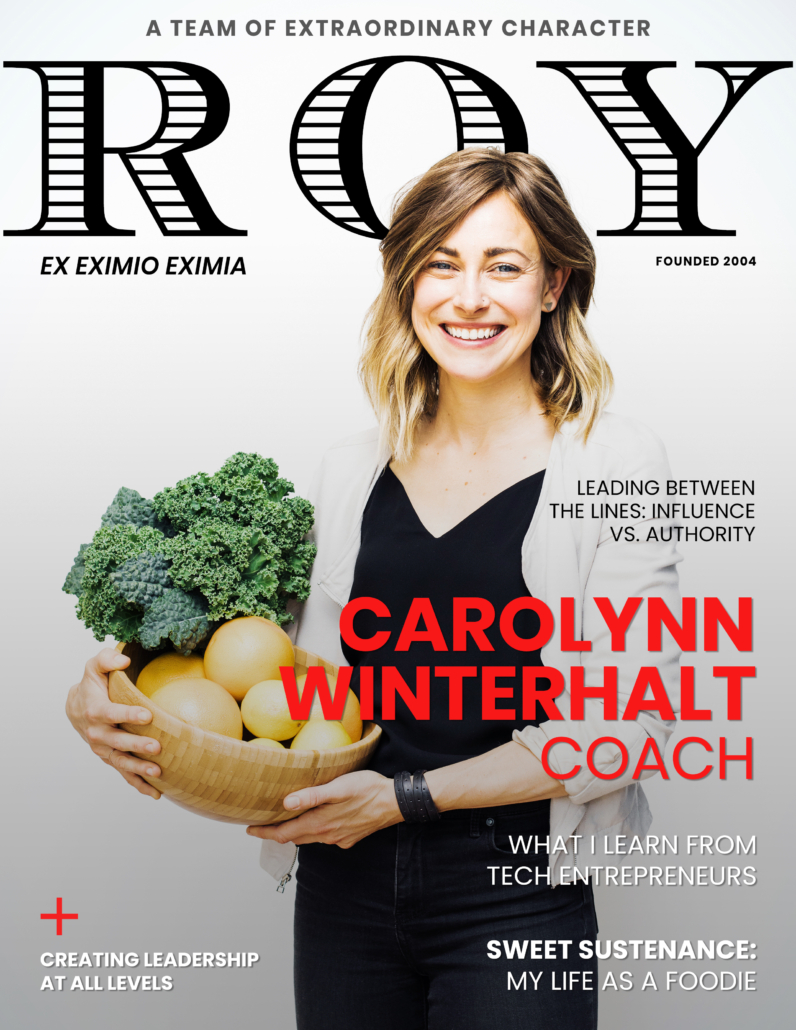 When Carolynn Winterhalt walks into the room, everybody just sort of . . . expands a little. Because she brings that kind of vibe: a promise of betterment, of personal challenge, of reaching for your best possible self. She's intensely educated and super well-travelled, but more important than her credentials is her total commitment to exquisite coaching. Carolynn has the ability to listen, reach inside, and touch the exact spot that hurts, then help you take hold of the tools that'll get you to the next level. Pretty special skill set.
How did your background lead you to Roy Group?
My fascination with a broader understanding of health is what sparked my focus in coaching. Originally I pursued this work as a student sport psychologist/mental health coach for one of the most successful varsity sport teams in the country. I dove into the fields of both public and personal health on a global scale, completing university-level work and education on four continents before I turned 25. My formal education is a Bachelor of Science in Kinesiology, and a Master of Science, plus a graduate certificate in executive coaching.
After a handful of "professional roles", I became the executive director of the A100, a group of successful tech entrepreneurs that worked to expand networks, connect people and share experiences to drive lasting diversification across Alberta. This role brought me back to my belief that overall health comprises multiple dimensions – including physical, emotional, intellectual, spiritual, occupational aspects – and it caused me to ask questions about the fast-growth companies and cultures I was working with. I met Chiz when we brought him in to support our focus on coaching within this network. With the help of Roy Group, this whole-person focus really started to click with business strategy and company development.
What is your gift? What in your background set you up for working with Roy Group?
I work to maintain diverse perspectives, whether it's from human body science and mental health, across the globe to public health and private health, to government and non-profit and tech sectors, or from Alberta, Canada to the Silicon Valley. With my unique background I offer a deep-rooted understanding of whole-person health: healthy body, healthy mind, healthy organization.
I've held several positions over my career where my title gave me the authority or opportunity to influence others when I didn't feel like I had enough knowledge or capacity for it. Finding the confidence to step into a role that provides a different perspective or skill set than those I was 'leading' has shaped both my professional life and coaching work. To ask questions with curiosity, and to recognize the value you bring by offering a unique perspective is essential to stepping into any role as an influencer, whether or not you have the authority to do so.
How do you bring forth that gift with your Roy Group work?
My work in sport and with athletes also plays well with coaching in an executive sense. I believe that leaders and companies need to train the same way athletes do in order to be successful. By using a whole-person health framework, I support individuals to optimize performance, visualize opportunity and 'peak' for competition. I create a safe space, and I know how to meet clients where they are. I use my training in athletic periodization in my coaching: just as in sport, we all need periods of rest and periods of sprints in our professional lives. I offer space and pause — a firm belief in the need to step back in order to push forward — and I look at ways to optimize our work to do this. But I also have a very grounded understanding of high-speed growth, the innovation sector, and the need to put your head down and get the work done to create success.
Your work with the A100 in Alberta required that you wear a lot of hats. What did you learn from tech entrepreneurs?
Failure is good! Fail fast and fail hard. Perfection is actually the least helpful goal. Look for problems that need to be solved and ask yourself what you can do about them. Search out who you can get on board with your idea. Ideas are everywhere — it's how you execute the work that matters.
Given your home base of Canmore and your involvement in all things outdoorsy, I think it's safe to say you've earned the title "Badass Mom". Because even with a toddler in tow, you're still out there ripping up the crags, big hikes in and out, packing portable potties and napping tents instead of deluxe chocolate and wine like in your pre-parenthood days. How has your transition to parenting shaped your coaching?
Sacrifice, perseverance, the challenge of parenting while adventuring, all of those help me notice the rewards that come from continuing to do the things that make us come alive when they are easy — but now I also recognize how much richer the experience is when it's more difficult. And maybe not even fun. Even the things we enjoy don't need to be easy!
How does holding personal health as your prime value inform your career?
Behind every person, whether a leader, CEO, investor or startup entrepreneur, is a bigger story, a bigger picture and a whole person. That whole person needs to be attended to. I believe in getting people to their healthiest version of themselves so they can develop the best teams, companies and cultures. I am humbled by the intricacy of individual human detail contrasted with the vastness of a global perspective. This excites me. We are all just incredibly small pieces of a gigantic puzzle.
Agreed. It's pretty cool to see how those puzzle pieces come together more quickly and easily when people bring their best selves to the table. What's the best part of working with Roy Group?
Oh, the team, for sure. Getting to learn from and experience the work of others, and holding them as my Mentors. I particularly value the opportunity to deeply practice the Roy Group teachings in our coaching sessions, and to build on the training that Roy Group offers.
When you're not leading and coaching, what would we find you doing?
Playing in my kitchen, and teaching cooking classes. I love making raw chocolate and desserts that are good — and good for you! Also, I'm all about playing in the mountains near my mountain town of Canmore, Alberta. And let's not forget chasing after my two-year-old. And also my rock-climbing-obsessed husband.
Do you have any special hobbies, interests or weird competencies?
I was a competitive athlete in water polo, cross country running and swimming. I've drunk coffee in 24 countries. Weird, hmm, well, my favourite class ever, which I later became a teaching assistant in, was a graduate level gross anatomy / human dissection course. And as for special interests, my greatest love is gathering people around a table and sharing good food. I have an obsession with potlucks, and regularly host them!