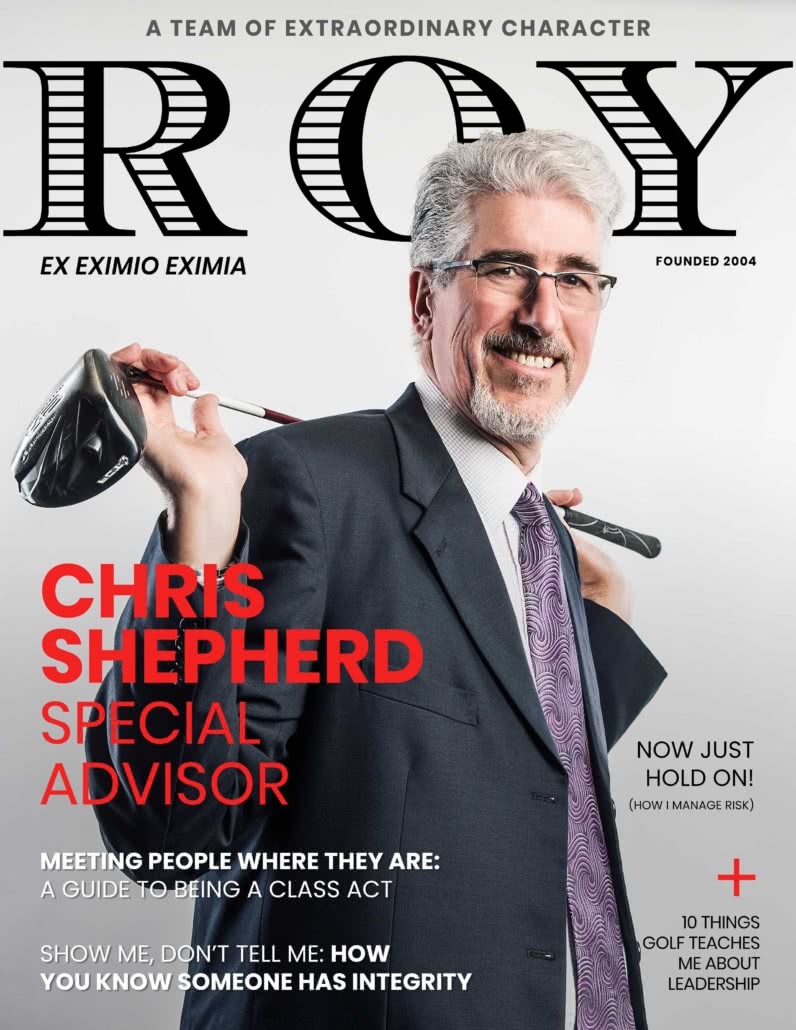 Chris Shepherd lends a steady hand to Roy Group's growth and strategic focus. With a long history in senior and executive roles, Chris genuinely enjoys business, and what the demands of business elicit from leaders. He knows there's always more at the bottom of the well — and he holds our bar high. The strong quiet type (but with a sharp eye for real-world hilarity), Chris is our voice of reason when we get too excited about all the roads we can travel. With the gift of clear deliberation and telling it to you straight, he's the guy who makes sure the wheels don't come off.
Chris! Or as we fondly refer to you in-house, Shep: How did you arrive at Roy Group?
I joined Roy Group in May 2017, two weeks after my official retirement date from full-time work. It was intended to be a short-term consulting role with a focus on identifying opportunities in strategy and finance. I immediately felt that Ian and Anne-Marie were running an amazing little company that welcomed what I had to offer, and shortly thereafter I became a more permanent player as Director of Finance. Jonny Schwartz has now joined us in this role, so I have evolved into a special advisor.
How did your background lay the foundation for working with Roy Group?
I received my MBA from the University of Calgary and then ran a successful financial planning practice as a certified financial planner. I have enjoyed many complex roles in business leadership and management, including human resource development, team building, coaching, product marketing strategy and general management. Over the years, I developed the ability to figure out how people who are different from one another can work together productively. It's important to balance these skills with financial discipline, especially for the world Roy Group seeks to impact. I've seen small companies struggle despite having a great story because they were not strategically focused, or were lost in the moment delivering their offering, which — although great for clients — is not always sustainable for the company.
What about your background experience is your gift?
I love a strategic challenge, and working one-on-one with businesspeople in both coaching and consulting roles is my idea of a great time. People and companies need perspective to see where they really stand, and where their best potential or possibilities lie. I have the ability to spot relevant patterns and create successful paths forward. (I can make spreadsheets interesting, too, which helps me share the gift of numbers and strategy with everyone at Roy Group — and our clients, as well.)
A gift for numbers and strategy. So you likely have an interesting stance on managing risk.
Managing risk is about making intelligent choices with the best information you can gather. Risk is not knowing what you are doing. So if I have a clear-headed impression of the challenge, if I can see both ends of the stick, and if I clearly understand the options, then the risks will be easier to accept. I believe that you can best measure risk with a proper evaluation of the numbers.
When you can reduce the number of "cowboy" assumptions, you reduce the risk of not fully comprehending what you are doing. So you have to look at the downside and see its potential impact. That's where I say, Just hold on there. Creativity flies best with fast thinking, but risk management lands best with slow thinking. People get enamoured by speed, especially in today's business world, and it's good to know when to throttle down.
Cowboy assumptions. That's awesome. Can we use that?
Please.
What do you believe in, and how does this inform the way you've shaped your career?
Success, happiness, and even competence start as a state of mind. The world typically wants us to be more dependent and even fearful, so for me it's important every day to do my own scripting and understand how much control I have in my life. If you're going to be thinking anyway, thinking bolder just makes sense! Most of our outcomes are a function of our choices and our clarity of thought. Having more measured support around you usually adds richness to those choices and outcomes. Roy Group is among those rare working environments where these types of beliefs are part of their DNA. They are respected and rewarded.
I also believe in trusting. The easiest way to impact someone and reduce their fragility is to trust them, and provide whatever positive presence and quality information we can.
How do you guide people on the journey to that place of "thinking bolder"?
I have to understand a person's perspective and appreciate them where they are versus where I think they could or should be. When a person feels heard and appreciated, it is actually a rare and empowering occurrence. I think about the African greeting, I see you, with all the depth and nuance it suggests. That's meeting people where they are. If you've ever experienced a great coach, you know that they can see the personal integrity in you, and that they can clearly imagine the best version of yourself that you could be.
Yes, and that's a huge part of our approach, isn't it? To look for the best, and to breathe life into that spark of greatness that we find in people. Tell me what else you like about working with Roy Group.
Excellent feedback. The team as a whole are HR geniuses who appreciate and even love their team members. It feels great to work with a singular company that walks its talk. It's fulfilling to be truly helpful in providing a suite of services that everyone actually needs. Ultimately, what we do makes the world a little brighter, a little more humane, and even a little better managed.
When you're not coaching, what would we find you doing?
I read a ton, spend time with my three boys, and focus on staying fit and healthy. I am evangelical about people taking responsibility for the one thing that's totally within their control: body/mind balance! My wife is a yoga and meditation 'guru' and so while I do practice yoga daily, I go off and play a lot of golf on my own. Golf is the real balance I need in life: it's the one game that is pretty much immune to strategy, analysis and effort.
Do you have any special interests or competencies? Weird superpowers?
I used to be able to look at a long column of numbers and tally them in the blink of an eye. But then Microsoft released Excel.