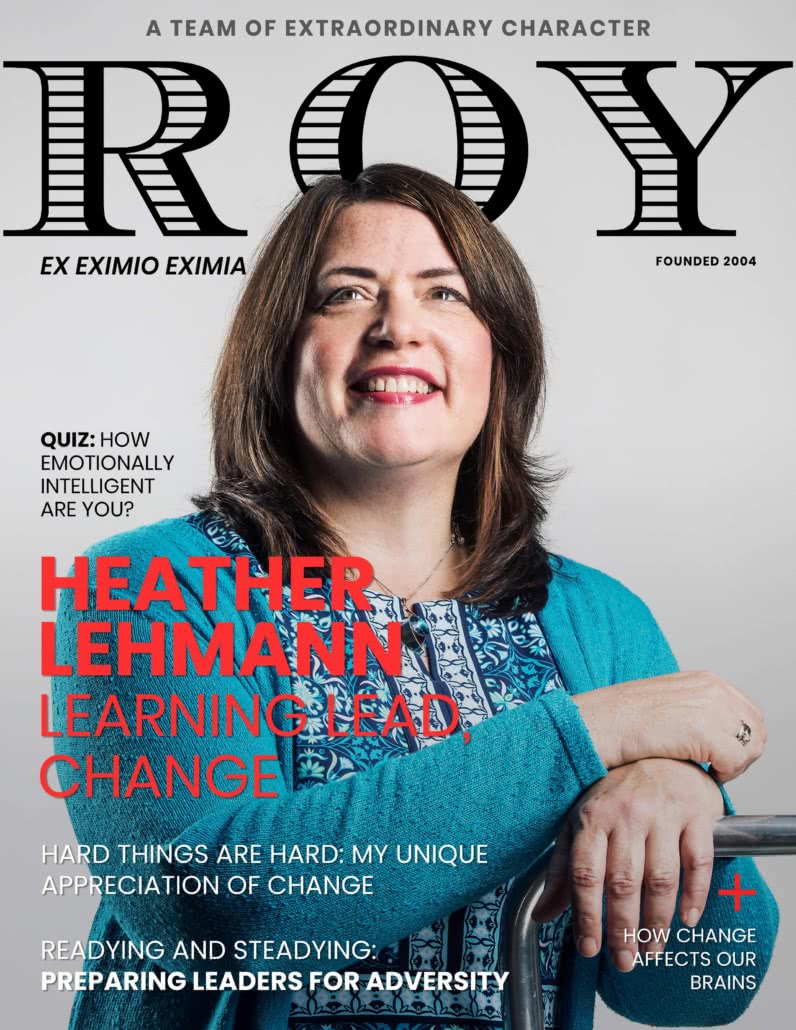 Heather Lehmann, our learning lead for change, never quails in the face of adversity. She knows that hard things are hard. In fact, it's those big, complicated, ugly issues that bring forth her best. Drawn from her quarter century of working in different organizations and guiding their leaders through change, Heather's ability to guide others in navigating adversity and complexity is a significant advantage for our clients in the ranks of senior leadership.
How did you arrive at Roy Group?
I had been hearing about Roy Group for many years, as they had a reputation for being an innovative and impactful leadership development firm. They invited me to contribute, and I wasn't about to say no.
You're one of those people whose education actually meshes perfectly with what they've ended up doing.
Yes! Without any foresight on my part, my degrees have set me up perfectly for the work I do. My undergraduate in psychology and my MBA help me understand the people side and the business side of organizations. My English degree helps, too, as I communicate much of my work in either written or verbal reports. I continue to pursue opportunities to grow and develop, including getting my Certified Professional Coach designation and being certified in a number of organizational development processes and tools.
What's your gift, and how do you bring it to what you do every day with Roy Group?
My gift is my ability be with a leader, exactly where they are, and walk alongside them through the good and the bad. It's the combination of really supporting people while offering up a higher possibility, and challenging them to lean into their growth edges. I've been a leader, so I understand the challenges, constraints and fears as well as the opportunities, excitement and joys that come with sitting in that seat. I know what it feels like to have amazing success and believe that I'm brilliant and capable of anything, and I also know what it feels like to crash and burn in spectacular failure and believe that I'm not fit to do anything. I've worked with and learned from many amazing leaders over the years, and have also worked with — and learned from — some poor leaders.
I say that my superpower is love. I see people's amazing gifts, and I see their flaws. When people know you are challenging them from a place of caring, they are willing to go places with you that otherwise they wouldn't dare to go. Many leaders, particularly those who are in more senior roles, don't have a safe place to just be themselves — to express what they are proud of, and to work through things they find really hard. It's a privilege to have people let me in and really work with them in such an intimate and vulnerable space.
Values, purpose, all that deeper stuff that shapes everything about who you are in the world — tell me about yours.
I lead with my values: love and care for yourself and others; be real; do what's right; lean into learning and growth; give yourself the gift of choice, freedom and flexibility; and make a difference. My purpose is to help people be the best versions of themselves that they can be. I establish deep relationships with people quickly, and that's because I genuinely care about them. That foundation allows us to delve into those sticky or hard conversations faster than we otherwise would. And because I offer up my observations and insights from a place of caring, people can actually listen to what I'm saying, evaluate it, and then choose what they want to do with it. It's in that really intimate, collaborative space that there is the possibility for growth.
You're Roy Group's learning lead on change. What do you know about change that you want other people to understand?
Change is inevitable. As a leader, you can initiate and direct change, you can respond to the need for change, or you can get run over by it. I've been working with organizations to help them through change for over 25 years. Change is hard for some, it's exciting and fulfilling for others, and for many it's somewhere in between. So moving an entire organization, as a group, to a new way of doing things is really challenging, because each individual will go through the change process in a slightly different way. You have to be able to help people through that process, and you have to start where people are at.
Because change is hard, however, it's an amazing leadership growth opportunity. Almost every leader I've worked with through a big change gets to the other side and says, That was hard, but I really learned a lot. That's because easy doesn't usually result in any significant learning, but hard often does.
Except we tend to want to run from the hard stuff! Tell me what you know about preparing leaders for adversity.
To face adversity, I think people have to know two things: who they are (their character/values) and what they are working toward (their vision of what they want the future to be). If they hold tight to those two things and are committed to living in line with them, people can face just about any adversity. I also think people have to be willing to flex their adversity muscles – to lean into the little challenges in life in order to grow and be capable of bigger challenges. Through the coaching process, leaders work on learning about themselves and challenging themselves to step outside of their normal way of doing things. That brings growth.
You're also known for speaking truth to power. How did you build that skill — and how do you do it?
First, you have to start from a place of love. You start with good intentions or pure motives, and you speak truth to power because you care — not because you want to be right or because you're smarter. So examine your motives, and make sure you're coming from a good place before you speak truth to power.
Second, you have to trust that leaders actually want to hear what is really going on. They may not always get the full "truth" from the people who report to them. Or sometimes they are afraid of it. Deep down, though, most of us want to hear the truth — or anything that will help us be and do better.
Finally, you have to hold onto what "truth" is pretty loosely. I may believe something to be the case, and I may have some observations to demonstrate that, but I always have to be open to different perspectives, and actively seek those out. This only happens in actual dialogue, not one-way diatribes.
How I got this skill? Practice. Just like anyone else, I've had to lean into the discomfort of it. Speaking the truth can be uncomfortable for me even now. I have to stick to my values around being real, and then go for it! What makes it easier is reminding myself of my motive. That's often where I start the conversation: I share my intent before I share my observations.
And how do you kick back, Heather Lehmann?
Travelling, walking the dog, gardening, horseback riding, biking . . . just about anything in nature. (I'm done with sleeping on the ground while camping, though.) Reading, spending time with family and friends. My husband and I recently purchased a vacation rental property with two other couples, so we spend a fair bit of time on that pet project.
I've developed and teach a course called Change Management Fundamentals for UBC Sauder School of Business Continuing Studies. While not strictly volunteer, I see it as a way of giving back to my alma mater, and contributing to leaders of the future.
Special hobbies, interests or weird competencies?
My only weird competency is that I'm the queen of parallel parking – I nail it even in really tight spaces!