Iain Duncan
Practice Lead, Social Impact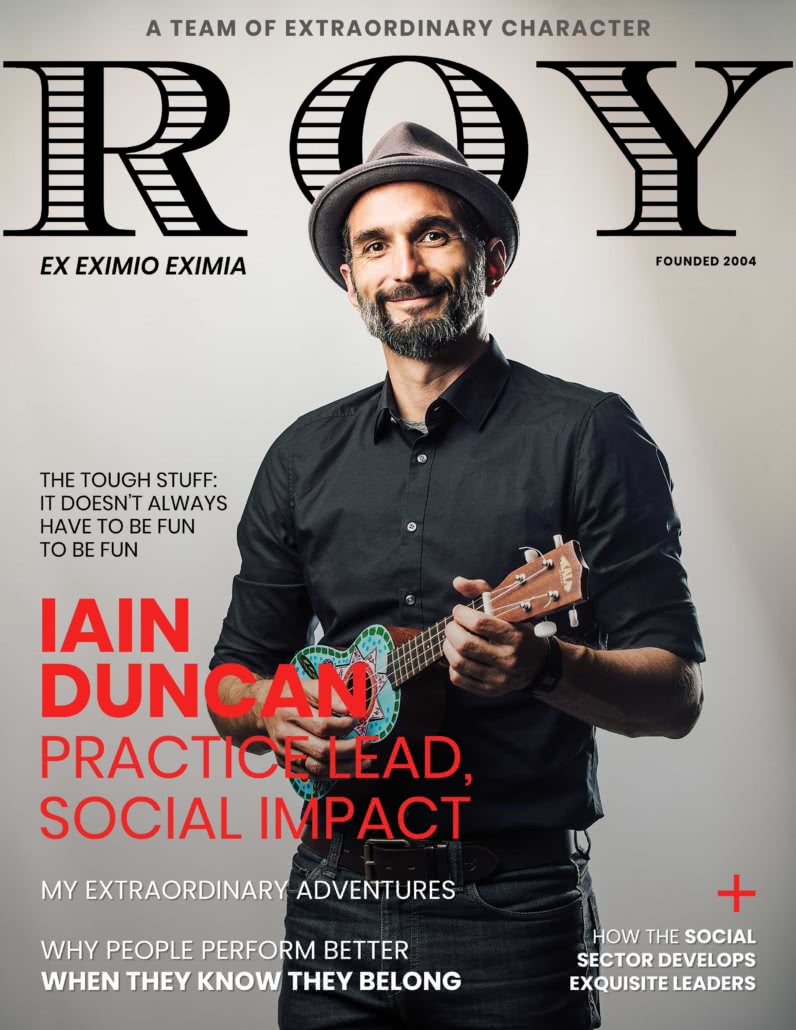 With an enormous heart — and an equally compelling conviction that we create our own paths — Iain Duncan brings a lifetime of experience in the social impact space. Serious at first glance, compassionate at every turn, and determined to shift the trajectory of humankind through developing extraordinary leaders, he is a gift beyond measure.
How did you arrive at Roy Group?
Years of group facilitation, developing service learning programs and building social enterprise opportunities, particularly in Indigenous communities, are some of the things that ultimately led me to Roy Group. I've served all across the social and environmental change sectors, from starting an off-grid environmental education centre in India to developing a region-wide community development program in the Amazon. I've been Chair of the Board for a social entrepreneur incubator, a consultant on provincial public health policy and a community organizer for anti-poverty initiatives for the urban poor in Toronto.
I met Nicole Rustad, one of Roy Group's special advisors, in Ecuador's Amazon Rainforest when she brought 60 Disney volunteers, celebs and film crew to visit the community development projects I was overseeing there. We've stayed connected ever since. When she went to Fogo Island and met with some of the Roy Group team there, she immediately thought of my community work with Indigenous groups in Ecuador and my social enterprise expertise, and knew I had to be involved. On a trip we made to Victoria soon after, she organized a lunch with Chiz and Todd. From there I took the Leader's Discipline. I really connected with the content in that course, especially the focus on how our conduct can create an atmosphere inside other people. Amazing. So simple, but so true. I further deepened my relationship with the team on our retreat at Nimmo Bay. With the launch of Roy Group's social impact practice area, I knew I'd found a terrific fit.
We are so glad to have you. Tell me about your education and how it shaped your career path.
A crush on a girl in high school led me to join a volunteer group fundraising to build a classroom in rural Nepal. After raising $24,000 together, we travelled to Nepal. I grew up in Burlington, outside of Toronto, so my world had been fairly small. Nothing came of the crush, but the experience blew the doors of my world open! After a hard-won campaign to convince my parents to let me take a year off after high school to backpack and volunteer in India, I worked in a warehouse to make my dream a reality. While friends went off to university, I was filling orders for plumbing and heating supplies. That trip to India fomented my desire to improve socioeconomic opportunities around the world and eventually led me to study international development at the University of Guelph, as well as in Guatemala immediately after its civil war.
I went on to implement agricultural programs in rural India. Later I managed an eco-lodge in the Andes. Then I designed and delivered social advocacy courses across North America as a leadership facilitator. I started my own environmental education centre. I helped to design and implement social enterprise opportunities in volunteer travel, fashion and jewelry, fair trade coffee and chocolate, all benefiting rural communities in South America.
It was those entrepreneurial experiences, focused on global social impact, that really set me up to be a contributor to Roy Group.
Holy smokes. Can you please run for prime minister? No, wait. We want you here with us. We've got work to do. But tell me, what drives this "force for good" inside you?
I believe that I am incredibly lucky to stand where I am today. I believe in making the most out of every day, and to make the most of my opportunities. It is my obligation to use my privilege to help the less fortunate in society, and the voiceless in nature, to thrive.
How is leadership changing to meet the needs of our current world? Can you see a shift underway?
The next generation will be defined by a deep desire for a more equitable, secure and ecologically abundant world. People will demand this of the companies, organizations and other individuals they work with — and because of that, the definition of a successful leader is changing.
There is a parallel between a healthy society and a healthy ecosystem. In an ecosystem, the key indicator for its wellbeing is the attainment of maximum diversity within that system. Without diversity, an ecosystem begins to fail. The more diverse an ecosystem, the healthier the system is.
Change in a social ecosystem works just the same. So often we approach change informed by only a limited number of perspectives. Add to that the fact that it's usually the people with the most power who get to set the change agenda. But for change to last and to drive us toward the greatest societal health, we need diversity. Those who are different from us — and from our status quo — need an equal voice and equal choice at the table. Those with power must actively create that space. That's what is going to mark the new leadership.
And that is what we are creating here at Roy Group — a greater capacity to communicate, to listen, to hold space, to weigh choices, to move forward in harmony. What do you think makes leaders in the social impact space so extraordinary?
The passion for a better world is so closely related to a passion for improved personal and team performance. Effectively, the principles for developing great leaders are the same principles for developing great social change. Both require looking deeply at the people and environment around you, inquiring, seeking input and feedback, and then synthesizing it all into innovative solutions to pressing issues. The next generation is demanding that their performance be deeply tied to a meaningful impact. The social sector leader has a leg up on business leaders thanks to their awareness of the nuances involved in the weedy issues of social and environmental change. That awareness, along with their passion for performance mastery, will drive the next wave of lasting change.
Yeah. I feel it. We can all feel it. The bar is higher now. And so much of what we call "the work" begins inside, with one's relationship with themselves. And that develops more quickly when a person is surrounded with connections to supportive, expectant leaders. It's like how a child will flourish under the loving recognition of a teacher who believes in them, and truly sees them. Tell me why people perform better when they know they belong.
Oh, this is the key. This is the key to everything. We need to believe in ourselves, our ability to support ourselves, and our ability to create change. The greatest gift we give others is to believe in them, to help them see in themselves what has been hidden.
Travelling to Nepal, saving up to go live in India, working in different parts of South America . . . you've chosen such extraordinary adventures for yourself. What a way to be. Totally owning the helm of your own ship. Tell me a crazy story from way back when.
On my first trip to India – aged 19 and totally naïve – I arrived to McCleod Ganj where I hoped to meet the Dalai Lama. The bus arrived in town five hours ahead of schedule, at 3 a.m. No hotels were open so I wandered into a nearby field, unfurled my sleeping bag and tried to catch some sleep. At 6 a.m. I felt a light tapping on my shoulder – the walking stick of a local shepherd. I looked up, and he pointed to the mountains. All he said was: "Leopards."