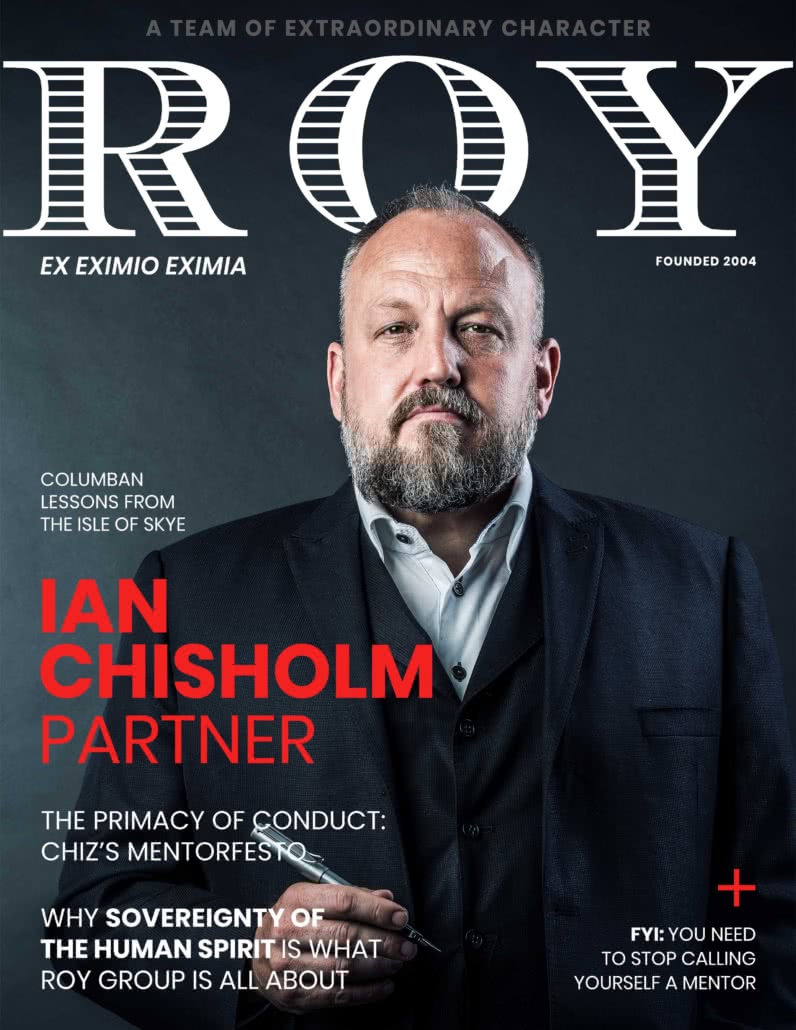 Ian Chisholm — Chiz, to those who know him — is the keystone of Roy Group. With a work ethic forged by growing up on a prairie grain farm, Ian's character was further honed by pioneering the challenging start-up of a leadership development centre on the windswept Isle of Skye, and rendered whisper-sharp by more than a decade of guiding leaders to raise their game. He is the indomitable force behind Roy Group's legendary impact. Ever watchful and always present, he inspires others through his own conduct to make their finest contribution. (But even though he's big on the primacy of conduct, he's not above pounding out Choppin' Broccoli in front of a giggling crowd.)
How did you arrive at Roy Group?
The concept of Roy Group sort of arrived to me. Returning to Western Canada in 2004, Anne-Marie and I had a young family, a big experience under our belt from our time on the Isle of Skye, and a way of working that had been shared with us by Mentors Mark Bell and Robert Henderson. I knew that I wanted to offer a level of quality that was above and beyond most professional development that was out there. I wanted to crush the existing paradigm actually, and help people realize that they are the most important piece of work they will ever undertake. We looked around, but couldn't find an organization that was as passionate about that as we were. So we created our own.
Take us through your career trajectory so we can see what led to the formation of Roy Group.
Big experience for me at age 16 representing Canada at the United World College in New Mexico. It was life-changing to be surrounded by so much potential in such a unique crucible. From there, I came back to Canada and attended the University of Alberta to get a Bachelor of Science. I had daydreamed since the age of 13 about being a medical doctor; I craved those high-touch moments working with individuals and families to move ahead well, even in the presence of complications, illness, adversity. I had the opportunity to watch a heart bypass surgery in the OR, and it was a big moment for me. I was deeply surprised that my attention wasn't actually drawn to the science of the surgical procedure, but more to the characters and the high-performance team dynamic of the surgeons, nurses and anesthesiologists. When I didn't get into medical school — largely due to the aforementioned lack of interest in the "hard science" of science — I was offered a position in New York with Operation Enterprise and the American Management Association. I thought I would spend a year or two there and then regroup, but I ended up loving executive education and non-traditional applications of experiential, accelerated and transformational learning.
What do you consider your gift?
A combination of gifts. I have crossed paths with and entered into deep friendships with some simply remarkable, extraordinary characters. Friendship with these kinds of people has been life's greatest gift. Secondarily — although it's taken me 4.5 decades to realize it — the essence of my gift is phrase. The poetry of real-world language. No fluff. No nonsense. I love impactful phrases that really say something. I love noticing, discerning and crafting phrases that stir people, phrases that dare them to raise their game.
I've watched you coach, and I've watched you deliver courses. You're someone who is super steady in personal interactions. The sense of safety you create is very heartening to other people.
That's funny. From several assessments I have done over the years, it is clear that I have a very low level of sensitivity. Challenging, uncomfortable, volatile, high-stakes situations don't affect me very much. In combination with this, I am highly perceptive — and generally kind-hearted, which helps with the next bit: for instance, in a tough coaching session I will know that someone is fast approaching tears. That awareness, however, won't sway what I ask next. It doesn't bother me when people cry, anger, or experience frustration. That's all part of helping people be honest with themselves and with each other.
I'd like to think that I have cultivated a distinctly warm, grounded and honest presence, which is what allows me the opportunity to have these conversations with people. I'd like to think that this giftedness in connection and story engenders deep personal and cultural change, positioning me to lead from the centre of any community I belong to, regardless of title or location or context.
What's your most strongly held value?
Quality.
That's one of Roy Group's core values. How does quality inform your work?
My world was heavily impacted by San Patrignano in Italy, a rehabilitation community that welcomes those suffering from drug addiction and marginalization, and helps them find their way through programming based in deep love. Everything there runs on the love of quality: Doing quality work heals the person who creates it. And it heals the person who receives it. I was rocked again by Fogo Island Inn, whose founder Zita Cobb told me, If it doesn't mean something [meaning any endeavour], then it doesn't mean anything. Life is too short not to have a zealous relationship with quality. I mean, put in the discretionary effort to make something beautiful — or why bother? A lack of quality is just offensive to me.
Tell me the best part of working with Roy Group.
I read a book a few years ago called Small Giants by Bo Burlingham. It talked about how a small giant company is one that provides a vehicle for the owner of that business to be who they need to be in the world. That is the best part of Roy Group for me: that each of us who work here gets to become who we need to be in the world.
You are working on a manifesto of sorts — a call to action for people to lead better. And it starts with a focus on self: a commitment to quality, to accountability, to principled work. You call it a Mentorfesto.
That is some strong language. I know. But I mean it. It is a call to action for people to lead better. I'm seeing more and more of a pattern — it's like a slipped gear. Leaders aren't leading; they're managing tasks. Managers start "doing stuff". And everybody else slowly becomes disengaged, trying to look busy when their boss walks by. If your work as a leader is defined by a list of things that you need to do — even tough things — well, bravo! You're a hard worker. Maybe even a task master. But you're not leading. Unless what you are doing develops the capacity of other human beings, what you are doing isn't leadership. It's just "doing stuff". The Mentorfesto is a collection of ideas that move people across the threshold of their work into Mentorship. Creating a future bigger than them.
You've got your work cut out for you.
We all do.