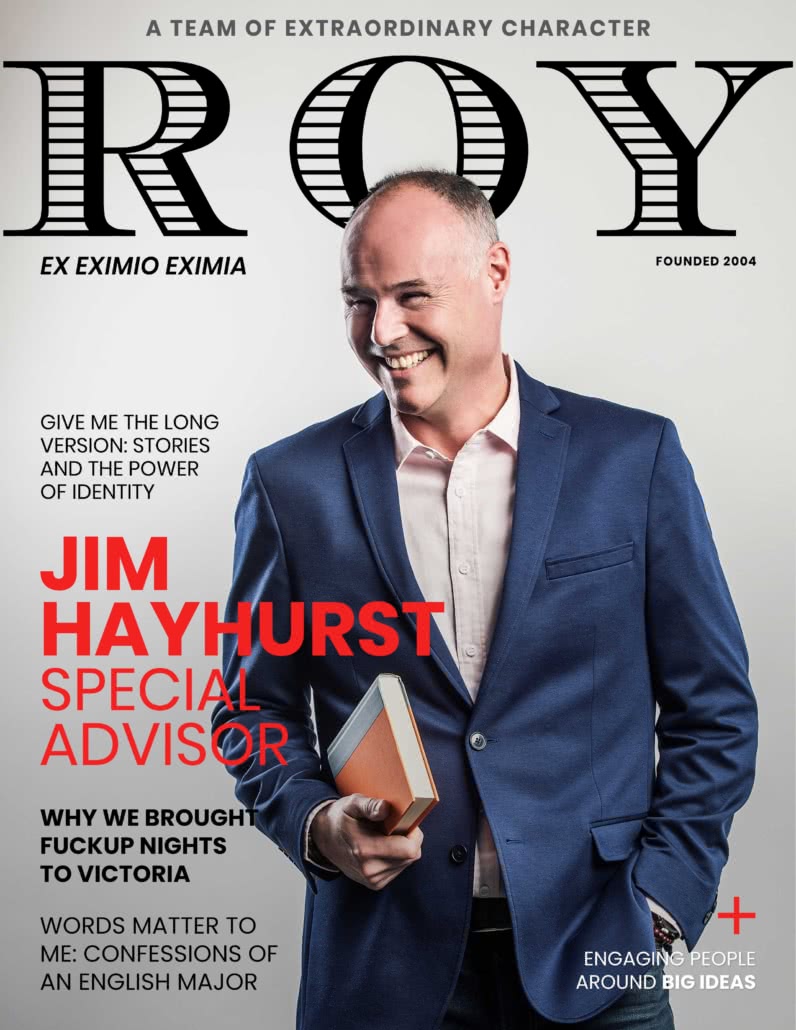 Few people have Jim Hayhurst's ability to make others feel so comfortable in a conversation. Part of that is down to his ability to be still and listen; part of it is his superpower of holding space for people's stories. With business instincts honed by an entrepreneurial household and later steering his own growing tech companies, Jim is a valued advisor to numerous organizations, including our own. A consummate learner and social innovator, Jim moves through the world with a positive grace, a deep curiosity and warmth for other humans, and a desire to help others make their finest contribution.
How did you come to Roy Group?
I first met Ian Chisholm while I was on the board at Pearson College UWC. I was immediately struck by his ability to synthesize difficult conversations into almost poetic summaries on the fly. He took the sting out of many of the hard issues we faced as a board while also creating intricate sketches and diagrams of what we were trying to achieve. I experienced those same things again when I took the Leader's Discipline some years later. To now be invited to help grow the impact of Roy Group in organizations and communities I care about is a true honour.
People know you for your incredible ability to speak to audiences and tell stories that move people. Where did that come from?
I chose to pursue my BA in English from the University of King's College, in part because I grew up in a family of storytellers. On my mother's side, my family ran summer camps. On my dad's, it was advertising. Both businesses understood how to connect with people through narrative. I was surrounded by leaders and mentors who ran their businesses — whether ad agencies, children's camps or schools — from a people-centric perspective. I saw firsthand the power of inviting the audience into the story — not just "telling" a story, but creating a story together. Ever since then I have used stories, either mine or other people's, to create connection and to break through barriers. Because when you're sharing a story, you are revealing what's important to you. The connection between leadership, creative a compelling narrative, and putting people first has always been super clear to me.
You also believe strongly in leaders developing their own capabilities to communicate effectively. Why is that?
I've been fortunate to work alongside some remarkable leaders. The very best ones have each found a way to communicate the essential elements of their vision in clear, compelling words. Whether in a business plan, press release, awards speech or website, I can always tell when someone has taken the time to consider their words with care. When I see that, I infer a lot of things about the person (or their organization). Writing is a "signal skill". Fairly or not, we draw conclusions about others' abilities — leadership, intelligence, organization — from what is written.
You've been tapped a few times with awards and recognitions. Share a couple?
My last company, Pretio Interactive, was honoured in 2017–18 as one of the Fastest Growing Tech Companies in BC and in 2015 we were given the "10 to Watch" award by Douglas magazine. Before that, our Triton Logging team got a lot of attention, including being named one of Entrepreneur magazine's "100 Brilliant Companies" and Popular Science magazine's "Green Invention of the Year". I am probably most proud of my two VIATEC awards, though: "Tech Champion" in 2016 and "Member of the Year" in 2018, alongside Chiz. These aren't awards you can apply or be nominated for — they just choose you. This town is overflowing with awesome leaders, so those were great calls to get.
That's pretty great. What do you consider your gift?
I'd say relationship alchemy. First, I have been outrageously fortunate in my life to have had experiences, met people and been places that 99% of the world would die for. Second, I am a chronic and unapologetic networker who matches a deep curiosity about people with an authentic desire to connect them with others to accelerate their respective goals. I do this by sharing people's stories with passion and discernment. I don't connect people for no reason, and I don't abuse the privilege of knowing these remarkable individuals and stories. Often there's nothing in it for me — just the joy of connecting awesome people. Something always happens that is valuable for the world.
How do you share your gift through your work with Roy Group?
My work here is focused primarily on expanding reach and impact. My network, my ability to share the Roy Group story in a memorable way, and people's trust in my instincts means that when I suggest they consider a Roy Group program, they listen.
You're one of those rare birds who has taken the time to establish personal core values. Will you share them with us?
I have three core values, and working with Roy Group hits all three of them. First, I work with people I respect and enjoy being around. (I mean, Roy Group is a dream that way.) Second, I do things that scare me, which keeps me in a learning mindset. And finally, I set out to do things that make my children proud. Anytime I have compromised on any one of those three, I have experienced failure.
So tell us about how you and Chiz brought Fuckup Nights to Victoria!
Fuckup Nights is a brilliant concept: sharing stories of professional failure onstage. It originated in Mexico City and has spread to more than 250 cities around the world. I guess it was around 2016 that Ian and I had been talking about how healthy conversations with leaders always included sharing what didn't work, and we wanted to see more of it happening. Soon after that conversation I heard about Fuckup Nights, so we brought it to Victoria with VIATEC. The impact has been remarkable! Not only is it always sold out, but the emotion in the room — the rawness of the stories and the engagement of the audience — is just so visceral. We see it as a key component of a healthy community, that ability to both acknowledge and share publicly what went wrong, and to support those who have failed.
When you're not busy telling stories, what would we find you doing?
I used to do pretty major expeditions to places like Everest and the high Arctic. These last 15 years I've been watching my kids play sports and working on important causes with dedicated people. Sometimes I'll pull prawn and crab traps on our boat with my dog or phone my parents, who both live back east. I love cooking gourmet meals for my wife at home. Every now and then, you can find me making short films to celebrate the birthdays of friends and family. And now that my children are older, I'm celebrating my return to the wilds with a Yukon River canoe trip.
Special hobbies, interests or weird competencies?
Oh man. Well, I can freestyle sing pretty much any topic or tune. It's kind of like freestyle rap, but with music and less swearing. I can breathe through my right eye. (Comes in handy if I ever am ever literally "up to my eyeballs" in something.) And uh, I can count to 10 in Estonian, which has only come in handy once.