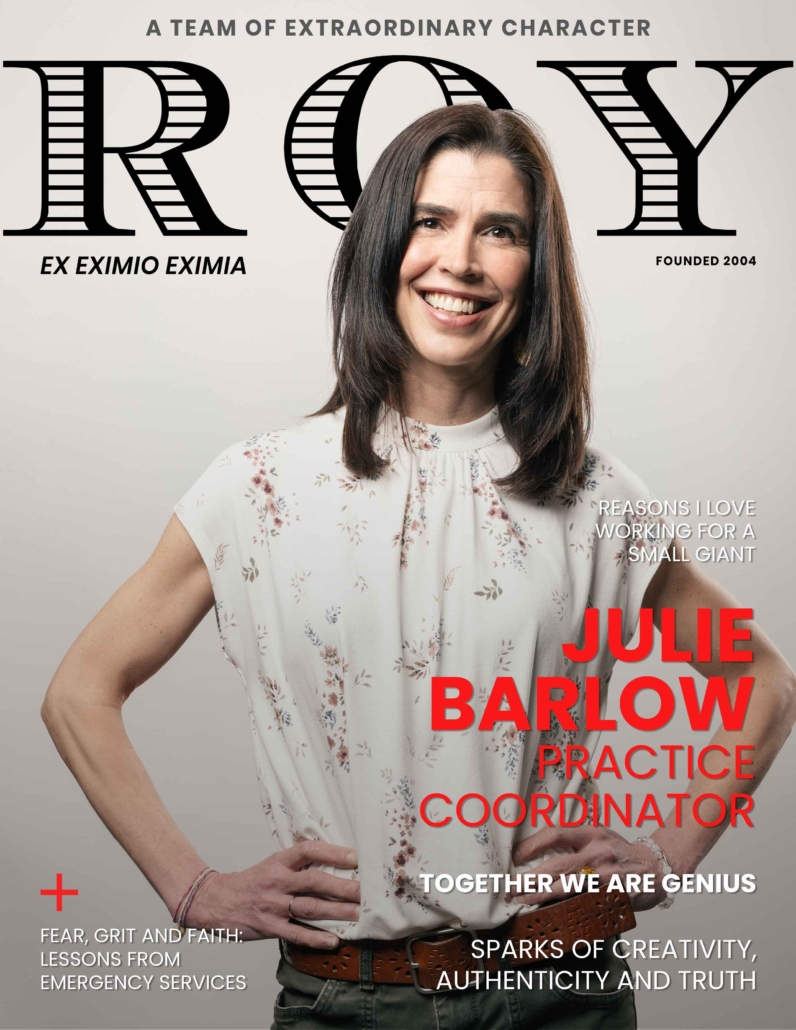 Working closely with our Practice Leads in Social Impact and Enterprise, Julie Barlow brings her trademark sharp project management skills and keen eye for detail. She comes to us from Sooke Fire Rescue, where she coordinated emergency services, communications and public education initiatives. Program development, coordination and delivery are her jam. A great model for our core value of creativity, Julie believes that nature, music and laughter fill our cups, and loves spontaneous adventures with her two children.
Julie Barlow, your reputation precedes you. Apparently you can make just about anything fun. And you're a "bad-ass skier" to boot. How did you make your way to Roy Group?
I had the opportunity to take The Leader's Discipline™ in 2013 with my team at work. My spark of love and appreciation for what Roy Group offers the world was ignited within ten minutes of being in the course. Right away, I could sense how much heart and wisdom was being poured into the process.
Since then, I've often found myself wandering over to the website to check out a blog post or read the bio of a new and inspiring rebel who has joined the team. When Chief of Staff Nina Moroso offered me a seat in a Leader's Gift course last year—we used to work together at Pearson College UWC—once again I had the opportunity to steep in the RG tea! Nina is an absolute gem, so I am delighted to snuggle back in beside her wisdom and spicy spirit.
She makes a mean martini, too. How has your background set you up for this multifaceted role?
Well, I've coordinated everything from ski and hiking trips for a backcountry lodge, to community-based leadership programs with Leadership Victoria, to higher education programs for Royal Roads University and Pearson College UWC. And most recently, I ran community safety programs for Sooke Fire Rescue.
I've worked across sectors, including social impact and enterprise, and I stand behind the goodness that both can bring to the world with strong vision and leadership. What's great about Roy Group is how powerfully our practices help organizations get to that place of strong vision and leadership.
Working with Sooke Fire Rescue really helped me appreciate the value of a skilled and compassionate work family. Relationships run deep in emergency services. There's a strong brotherhood / sisterhood that's rooted in trust and vulnerability. First responders have to be ready in an instant to gear up, get their head in the game, navigate to the scene, assess the situation, source the right tools, and execute with skill and compassion. There are so many moving parts that go into providing this kind of service that people never see. I see many similarities in the way Roy Group approaches our work.
How does your work at Roy Group let you live into your Leader's Gift?
Mmhmm, my gift is igniting inclusive missions with sparks of creativity, authenticity and truth, empowering people to lean in, have juicy bursts of fun, and trust that together we are genius.
In less poetic terms? I love accomplishing cool and meaningful shit with cool and meaningful people, and having fun while I'm doing it. There are so many opportunities to bring this forth with Roy Group. Part of what I love so much about this firm is that our relationships go well beyond what you see in a typical client relationship. That's a beautiful thing.
True. We don't "pedestalize" ourselves with our clients—we're right in there with them, human to human. What else do you stand for in this world, and how do these beliefs inform your career?
Adventure, learning and experience drive me, so my career path has been serpentine. My love of experiencing new things also means that I love to witness the people around me experiencing new things and learning something about themselves along the way.
You're in the right place, then. Speaking of learning, you were involved with the immediate disaster response at the start of COVID. What was that like?
As far as emergency events go, a pandemic is a weird one, because there's no specific site to support. And it's long lasting: the whole community was affected during the height of the crisis, but in unique and personal ways. As the emergency information officer, I participated in regional planning calls, watched daily press conferences, and then crafted and shared community-specific information and directives.
I will never forget the day that I walked downstairs and locked the doors to the District of Sooke municipal hall. My mind was swirling around how the pandemic would all unfold. We informed staff that the COVID-19 lockdown may last up to two or three weeks. Little did we know. There were so many unknowns and questions, all topped off with a decent sprinkling of fear—particularly for firefighters, who were responding to medical calls. For us, working from home wasn't an option.
Well, every person reading this is tipping their hat to all of you on the front lines for the calm steering through the storm. That deep focus on the human experience is so valuable. It gets me thinking about small giants—those companies that prioritize quality and depth over the relentless pursuit of growth. Why do you love working for a small giant?
Because the world needs more small giants! More recognition that together we are genius in tackling big goals. There is more heart, more thought, more care, more meaningful connection, more passion—and much more listening. There is so much more humanity in the small giant sphere. I can already feel this at Roy Group. The relationships are genuine and deep. They go beyond simple touchpoints. Humans matter. And that's important, because it's the humans who do the work.
That's a great line. "It's the humans who do the work." Why is work important in the human experience?
Our work helps get us out of our comfort zones, connects us to one another through shared experiences, gives us a sense of purpose and identity, and provides opportunities to learn and grow together as human beings. Hopefully, we find opportunities to better the world, feed our souls and fill each other's cups while doing it. Some of my closest lifelong friendships and mentorship connections were hatched through work experiences. I am eternally grateful for these rich relationships.
What's your fantasy Netflix show about?
A Survivor-like series, but the challenges are leadership-focused. And the winner gets to be prime minister.
That's very cool. I think people would love to watch that. What do you do in your spare time?
These days, a lot of Grade 10 math homework with my 15-year-old son! But I also love hitting the thrift stores and skiing. And I appreciate a good documentary.
Any special talents? Encyclopedic knowledge? Fringe hobbies?
I can pack a helicopter and hook up a long line like a pro. I also collect '60s and '70s vintage, full-length polyester dresses and pantsuits.