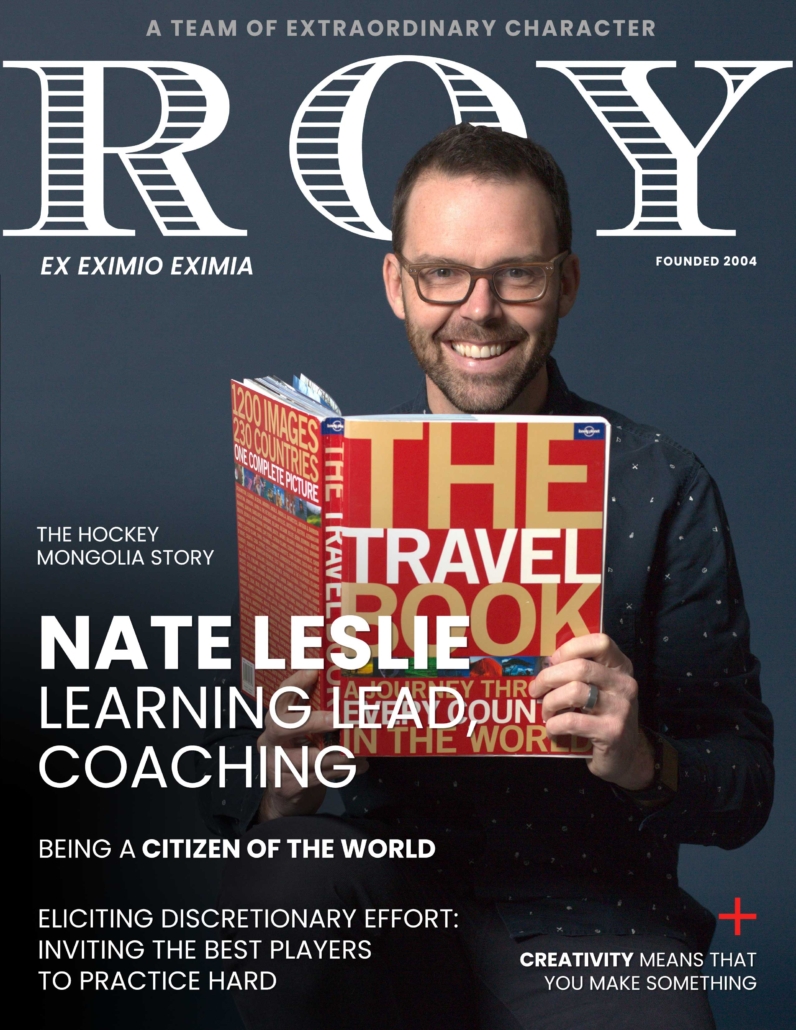 Inspired every day to help leaders find clarity and increase their effectiveness, Nate Leslie brings a dynamic, engaging energy to leadership facilitation. He holds clients capable of creating the solutions to their greatest challenges. A lifelong learner, Nate holds a Master of International Education and is a certified executive coach. With a background in professional hockey, years invested in developing the sport around world, and a special brand of social entrepreneurship, Nate embodies the Roy Group values of creativity and vitality.
Nate, how have you come to join the team at Roy Group?
A few years ago, I guess in 2017, I had asked Chiz for a ride back to Calgary from the Kananaskis Resort, where I'd been a participant in a Roy Group program. It all went horribly right when we took a wrong turn out of the resort parking lot. We were deep in conversation — and likely somewhere in Montana — when we realized we'd taken a wrong turn. What should have been a 90-minute drive turned into a four-hour odyssey. Without that "wrong turn", though, we wouldn't be having this conversation now!
After that, I stayed in touch a few times a year, looking for the right opportunity to collaborate. As fate would have it, the 2020 pandemic was the right time to certify as an executive coach and formalize an opportunity to work with Roy Group.
The accidental odyssey that was meant to be — as they so often are. Where had your path taken you before Roy Group?
Oh, all over. I completed my Bachelor of Arts in Geography and Environmental Studies at the University of Victoria over the course of nine years. It took a while because I was playing junior and then professional hockey over those nine years in Victoria and Europe. I cobbled my degree together through independent study, correspondence courses and on-campus learning — pursuing a goal while facing down distractions. This accelerated my drive, which would later emerge as the entrepreneurial creation of useful services.
After my years of professional hockey ended, I found myself in Manhattan. Long story. After a bit of a wild ride, I ended up in two roles. By night, I helped grow a hockey program for disadvantaged kids in West Harlem; by day, I was the Athletic Director of the Saint Thomas Choir School.
Hockey and choir! That's a blend.
Yes! The whole raison d'être of this boarding school on Central Park South was so that 36 highly trained young boys could perform weekly as a world-class choir at the Saint Thomas Church on 5th Avenue. They were world-class, even singing for the Queen at Buckingham Palace. When I was hired, the Head of School gave me one mandate: help these talented kids fall in love with sport. On my first day, I ordered street hockey goalie equipment that would fit both the older students and my friends who came over to play on the weekend! The juxtaposition of those roles is still something I think about daily.
Around this time, I committed two summers and the school year in between to study for my Master of International Education degree in Madrid, at Endicott College's satellite campus. And after helping my father — who had also been a professional hockey coach for part of his career — run a leadership development intensive in Switzerland in 2019, I decided to pursue a graduate certificate in executive coaching at Royal Roads University. It was a great way to apply my experience in leadership coaching in youth sports to executive coaching.
Through all that colourful background, what would you say has emerged as your gift?
I've lived a life of adventure, achievement and defeat. I've had to start over a number of times, from athlete-career transition to having a work permit denied at the US border one week before the school year in NYC — never to return to the role — and moving to Vancouver with a duffle bag of clothes while everything I owned was in New York.
Frank Sinatra says, If you can make it here, you can make it anywhere. Starting anew doesn't scare me. I live this experience with every new client who has entrusted me with their development opportunity.
Is that the special sauce that Nate Leslie brings to Roy Group?
You could say it's a focus on tailored service. Connecting with participants early and identifying how to best show up for them is a critical step. We must be in service of every client, treating each one fairly and uniquely. I've learned to treat people the way that THEY would like to be treated. I want to feel proud when my head hits the pillow at night, and excited when my feet hit the floor in the morning. It's easiest when living a life in service of others.
You define yourself as a social entrepreneur. Making things seems core to your identity.
Yeah, I've spent nearly 20 years creating useful products and services for small groups. Making something — an app, a clinic, a summer camp, an executive coaching practice, leadership facilitation, a human experience — requires creativity, guts, a belief that it could turn out to be absolutely incredible … and an acceptance that it might not work out.
Every day is different. As seasons change, so do my responsibilities and areas of focus. My thinking changes and I evolve, like we all do. I've grown comfortable with the fact that the journey is the thing, and that we all have unfinished projects and imperfect creations. My latest project, beyond partnering with Roy Group, is my new podcast, Leading with Curiosity.
My wife Tara runs a family private nursing, home care and occupational therapy company with over 150 employees. Sometimes I need to park my creative brain and my passion for 'making stuff' to be in service of her business, and of our two adored children.
OK, I've got to ask: What's the Hockey Mongolia story?
In 2015 an email originating from Mongolia joined the Leslie Global Sports mailing list. It was our soon-to-be-good friend Pujee checking out some free content in my online course for minor hockey coaches, How to Play Hockey.
My brother Boe and I reached out and grew the relationship with Pujee. Inspired and ambitious and maybe a little bit crazy, we raised $30K in 30 days on Kickstarter to get ourselves, some used equipment and a professional camera crew to Mongolia. We assembled a film crew and transported ourselves overseas with as many bags of used equipment the airline would let us bring. Karin Larsen from CBC was our lead documentary producer (I'd coached her kids in hockey), and Project Mongolia: Rinks for Hope was born. The craziest moment happened while we were thawing out after coaching a -30° practice on an outdoor rink about 80 km from the Siberian border: the president of Mongolia's secret service called to thank the two Canadian brothers doing such important and meaningful work for the children of Mongolia.
Since then, the Canadian Embassy in Ulaanbaatar has helped us partner with various Canadian companies operating in Mongolia to send over two containers full of used hockey equipment. (The closest hockey store to Ulaanbaatar — the capital — is a 13-hour train ride away, in Siberia.) We've tripled the number of kids playing hockey in the country, and because of the equipment, Mongolia now has a women's national team that recently competed in its first International Ice Hockey Federation-sanctioned event. Our project is ongoing, and I dream that it will be our legacy.
Wow, you really are entrepreneurial. When you're not running international sports programs, enrolled in a degree or raising thirty grand … what would we find you doing?
Travelling. I've watched the sun set on Mt. Everest from 19,000 feet, run out of oxygen scuba diving — more than once, actually — and slept inside an active volcano.
I also love backpacking with my wife and children, skiing, hiking, playing guitar, and reading by the fire at our cabin on the Sunshine Coast. About leadership, of course.
No surprise there! I'm sure, as a seasoned globetrotter, you've acquired some special mad skills?
Perhaps! I speak five languages: English, German, Swiss German, French and some Spanish. I enjoy accent impressions. My kids laugh hysterically when I switch quickly between them. And for the top-tier esoteric prize: I can speak German in a Russian accent.