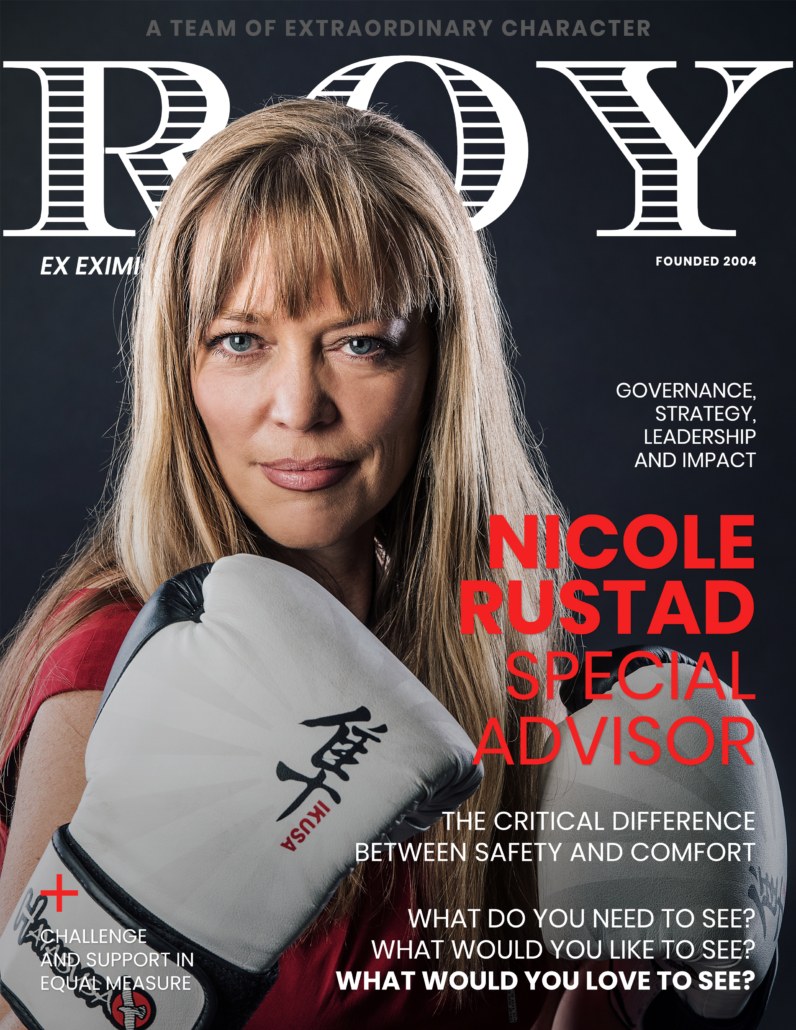 Outspoken, passionate, and with a backbone of titanium, Nicole Rustad stands for social justice and positive change. With her fierce commitment to delivering impact through integrity and action, she embodies the Roy Group quality of vitality. Confident and inspiring in her words and actions, Nicole brings a wealth of experience in the finance, tech and social impact sectors to her work here at Roy Group.
How did you arrive at Roy Group?
Todd Walsh and I worked together in the financial industry. After an introduction through Todd, I had the chance to meet Anne-Marie and Chiz at the Social Impact Summit at the Fogo Island Inn in Newfoundland. I am excited to have the opportunity to work with Roy Group. Like, huge.
Where did you come from, to have landed among this shining group of people?
Although I have a degree from McGill University and obtained my designation as a certified financial planner, it's been my life experiences, the volunteer work I have done, and the opportunities I have embraced that have brought me my best learnings. I established a junior Chamber of Commerce chapter in the Okanagan that was geared towards women, because at the time in Kelowna, there were no organizations like that — nothing for women in business, especially for the 18-to-40 age band. The mandate of that organization was to learn by doing, so we did a lot of different community projects.
Eventually I left the financial industry and stayed home with my son for a couple years. I continued my volunteer work advising non-profits on how to scale, and then in 2007 I was approached by the founders of Club Penguin to head up their strategic philanthropy and corporate social responsibility, as they'd just been acquired by the Walt Disney Company. My role just morphed over time so by the end, I was the lead for corporate social responsibility for the tech division globally. I was at Disney for 10 years.
Awesome. Who else can say that?? What's your gift, and how do you deliver it to the world through your work with Roy Group?
My gift is to see the potential in every human to make the world a better place, and to challenge them in using their special skill and ability to discover their purpose and thereby create positive change in the world. My jam is listening to people's life stories and discovering their potential to do the extraordinary. I'm motivated to empower the people I work with, to help them realize that what they do matters, and to show them that their actions can be an incredible catalyst for change.
You believe deeply in people's desire to do good. How does this inform your career?
I believe that we must all strive to leave the world a better place than we found it. My life purpose is to do whatever it takes to make a difference by standing up for those without a voice, including animals and the environment. I've done it ever since I was a kid: I would stick up for people being bullied. I'm not someone that can walk by another person without looking into their eyes and seeing who they are — seeing their essence. I'm really highly attuned to other people.
This is the lens through which I assess what I do on a daily basis. It's my way of being in the world. Most of all, the Mentors who have come into my life sharing their wisdom and knowledge have been my greatest teachers.
What is the critical difference between safety and comfort?
Safety, from my perspective, is providing space for people to speak from their heart and to be vulnerable. And in order to do that — to go really deep — it's not going to be comfortable. If we wanted to maintain comfort, a lot of times we're going to not listen to what's deep inside of us; we're going to push that away. When you're coaching someone, it's building trust and helping them understand that they are in a safe place to reveal what's deep, deep in their inner heart, and that they're in a safe space in order to verbalize or articulate it. So from my perspective, it's about really reaching for more.
You know how to push people toward their best. Tell me a bit about the importance of providing challenge and support in equal measure.
I've worked with communities and individuals in very difficult circumstances. In order to both challenge and support individuals to be their best or find what Todd and I would call their "true north", it's incumbent upon me to do so from a place of deep humility. To both challenge and support effectively, you must first seek to understand and then be understood.
How do you leave your mark on the world?
The impact I strive to design is one where every person discovers how they can use their time, talent or treasure to make the greatest impact possible on the cause they care about. It's really about helping people discover what they're passionate about and what they love to do. That's how you can uncover what their skill is, because it's usually pretty close. Someone who is good at crunching numbers probably loves doing that. Someone who is great at public speaking probably loves doing that. So you can home in on people's skills and use different tools to figure out what those are, and then marry those skills with the cause of their passion. The same is true for the organizations I work with. The type of impact we design is created by focusing on organizational strengths to tackle social issues. Clarity and focus are key to making the greatest impact.
You bring a wealth of expertise in the strategic space. It's a super complex area. Talk a bit about the four pillars of governance, strategy, leadership and impact.
Governance sets the framework for organizations to operate effectively. A strategy can be built only once a clearly defined vision and goals have been negotiated. Leadership requires carrying a clear vision that others are inspired to rally around — and, like we understand at Roy Group, it requires self-knowledge and a commitment to refining ourselves. Impact is achieved when you take focussed action and execute on the objectives as they are set out and informed by the organizational vision.
You run your own business advising social impact organizations, and now you're sharing your expertise with Roy Group. You don't have a ton of spare time! When you do manage to catch a couple hours, how do you spend them?
With my teenage son, and with Snowbee, my loyal hound, constant shadow and hiking partner. Often I'll be in the outdoors, hiking, swimming, freediving, kayaking, snowshoeing or skiing. I'm an outspoken activist and don't hesitate to jump into the fray when there is something that needs support or volunteer action. I sit on a few boards, and am founding chair of Mamawapowin Technology Society, bringing connectivity to rural First Nations communities. I'm also excited to be working on an app to inspire kids to become conservation champions with three of my former co-workers from The Walt Disney Company.
In all your free time.
In all my free time, yeah.
OK, Jax collects esoteric CDs, Erich shot a minus six in Frolf and Bob built a whole music district. Whaddaya got for us?
I'm a passionate freediver. I probably can hold my breath longer underwater than anyone else I know!