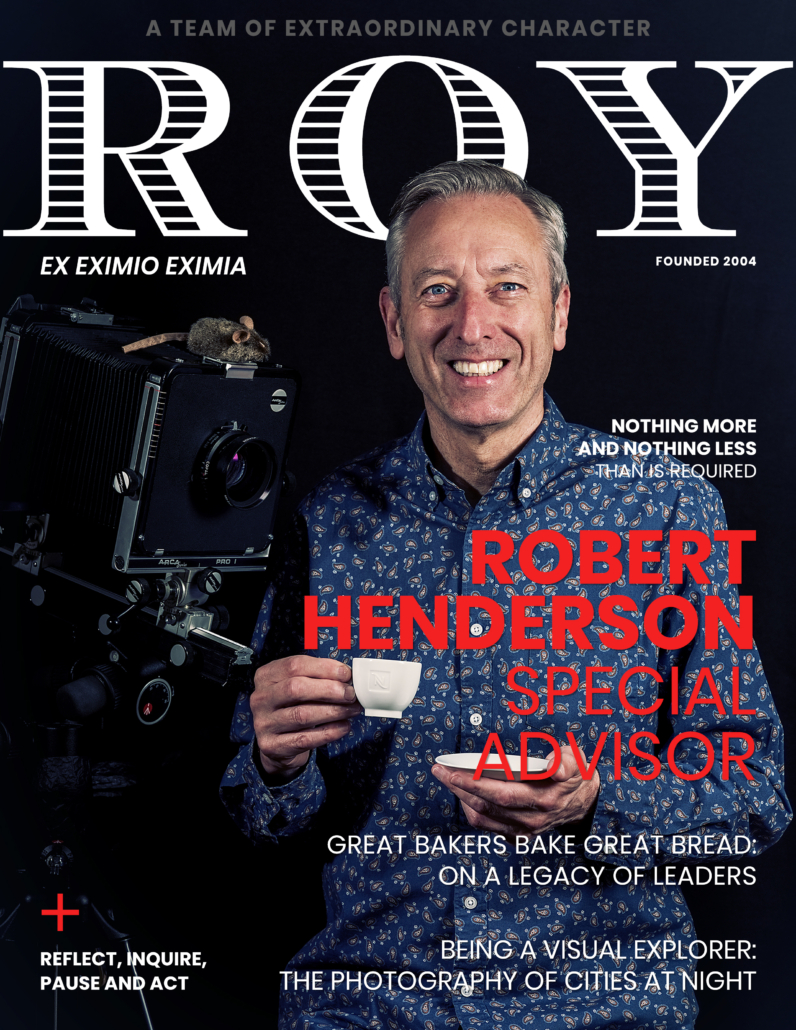 Vital, kind, and radiating curiosity about people, Robert Henderson is a Mentor to many. In fact, Robert's convictions about Mentorship have informed our own teachings at Roy Group, and serve as the inspiration for our coaching method. (We wanted to hang his picture on the wall, but he'd never go for that. As long as he's opening hearts and minds, the man is fed.) From his work as a chartered psychologist to his years in leadership roles with a major multinational company, Robert has developed his capacity to lift people toward being a better version of themselves, and walk beside them as they unfold their finest contribution in life.
How did you arrive at Roy Group?
I met and worked with Chiz on the Isle of Skye when he was CEO of Columba 1400 in the 1990s. Feels like a long time ago, yet not. Mark Bell, Chiz and I founded re-find the future© as a practice-based approach to growing leadership in self and others. In the last two or three years, I've been working more closely with Roy Group as a leadership coach while maintaining my own practice in the UK and Europe.
How does your background set you up for working with Roy Group?
I'm a chartered psychologist in the UK, so my initial background is in psychology, then leadership and organizational development, and latterly also as a photographer focusing on art (I graduated from Edinburgh College of Art in 2016). My executive experience includes assignments in the retail, manufacturing and electronics industries, as well as educational institutions. I worked for 20 years in tech, holding senior regional and global roles for Motorola. I've served on all sorts of organizational and leadership projects as well, coaching senior leaders and executive leadership teams.
A recent art degree. You truly embody lifelong learning! Tell me about your shift into photography. Where has that taken your work?
I was awarded a residency exchange in Berlin (September–October 2019), between Streetlevel Photoworks Gallery in Glasgow and Ostkreuz Photo-agency in Berlin. This was an exciting opportunity to develop my art photography practice, and evolved into an exhibition of a photographic work in Glasgow during summer 2019 and in Berlin in 2020.
You're known as a man of uncommon character. When you look at your background and your experience, what would you say is your gift?
My greatest strength is my ability to engender trusting relationships where people feel safe to do challenging work both on themselves and within their organizations. My grounding principle is First Self, that is: my greatest learning comes from trying to lead and learn in my own life, relationships and work. Going back to art school in 2013 was such a challenging experience, and it helped me develop my practice not just as a photographer but also as a coach. I am fascinated by the interplay of opposites in the human experience: of light and dark, hidden and shown, easy and hard, good and bad, new and old, clear and unclear, leading and following, efficient and effective, central and dispersed, love and hate, day and night etc.
How do you bring forth that ability to create trusting relationships through your Roy Group work?
I aim to turn up each and every time and be fully present with my clients. My approach is to help people coach themselves, and in turn more effectively coach the people they lead.
Your grounding principle of First Self: how does that guide your career?
It's something like what Jean-Paul Sartre called living with "good faith" — that we have freedom to discover the forces within and around us, and to choose and practice living. Leadership is part of living. I believe all humans are capable of leadership in their own lives, and as a coach I try to enable each person to grow this innate capacity. My work is primarily focused on people who seek to lead institutionally, with the great challenges that leading in this kind of setting brings in this rapidly changing world.
I'm also very mindful of the value of integrity. The recognition and practice of compassionate interconnectedness is important to me. We are not alone; everything is connected; everything we do has intended and unintended consequences. Who we are matters.
That connects back to Roy Group's core teaching: that the way we choose to conduct ourselves creates an atmosphere inside others. Talk a little bit about the value of pausing, noticing, and deliberately choosing, instead of charging through our lives with ACTION written all over our chests.
That's a great image. Yes, it's about working on one's being as a prerequisite to doing. I know I still get sucked into immediate action, often out of a sense of guilt or expedience. I get "busy". But if I am busy on the wrong priorities — or in the wrong direction, or in an unhelpful manner — what is this action for? To overcome this unhelpful tendency, I allocate practice time every day to just being and noticing, without action. And if I practice this for long enough, when the time comes to act quickly, I find I am more able to do so.
There's a lovely Zen story about planting a tree in the garden using two very different methods. You could dig lots of holes and move the tree around all day to find the right spot. Or you could sit in the garden for most of the day, pay attention, and wait for the right spot to emerge. In more romantic language: the garden will speak to us where the tree should be planted.
That is a lovely story. Here's one for you — or rather a saying. This one originates with you, actually, and has become a cherished Roy Group aphorism: "Great Bakers Bake Great Bread". What does it mean?
Greatness surrounds us in everyday, "everyperson" ways. It's the everyday commitment to being your best, and even when you slip, it's picking yourself up, dusting yourself down and recommitting to improving how you turn up in the world. It's easy for us to take the simplest things in life for granted, yet they are created by the dedication of unknown people with no social media presence who make a difference to all our lives. My father was a baker who never lost his excitement, fascination and commitment to being a baker, making great bread and pastries, and bringing a simple joy into peoples' lives. For me, these are the amazing stories. They unfold away from the media and the public gaze. They are less about public acceptance and praise, and more about an inner sense of purpose and commitment.
Agreed. That kind of light can come from anywhere, or anyone. You don't have to be "someone" to deliver good. So, when you're not advising or consulting, what kinds of things occupy you?
I have a wide range of interests. Family and friends, road and mountain biking, art photography, Japanese gardening, travelling, collaborating with other artists. I am mildly obsessive in my approach to life . . . mildly meaning I am obsessive over the longer term rather than the shorter term.