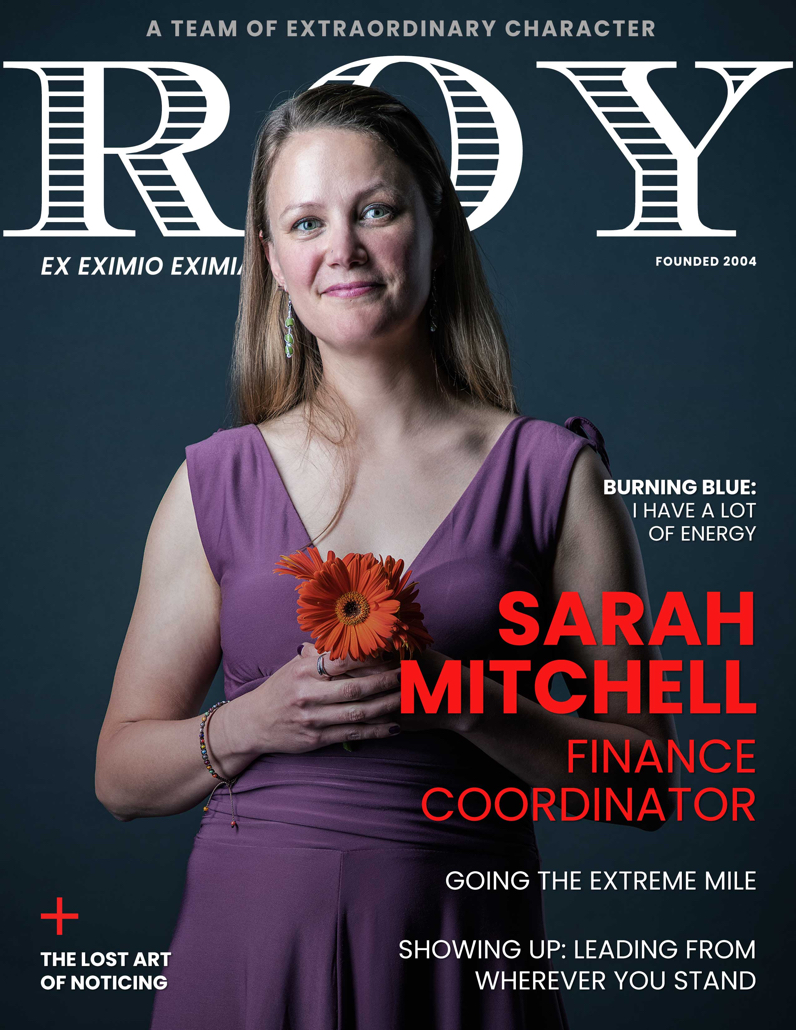 Sarah Mitchell manages the day-to-day financials at Roy Group. Originally from Toronto, Sarah lived in Calgary, Halifax and even Thailand before making her permanent home in Victoria. Sarah's background is rich in travel and varied in focus, incorporating a master's degree, events management, managing an outdoor adventure company, studying to be an accountant, and raising two (slightly wild) humans. Her love of process and her passion for efficient systems serve us well as Roy Group grows toward an exciting future.
How did you arrive at Roy Group?
Prior to Roy Group, I worked at Pearson College UWC as a finance assistant. I was enjoying myself so much that I began contemplating the pursuit of my CA designation. As it's a rather large commitment, I decided to connect with other accountants to ensure this career path would be a good fit. My friend and former colleague, Nina Moroso, suggested I connect with Jonny at Roy Group. After a lovely chat, I felt confident accounting is indeed the path for me. As it turns out, it was a fortunate connection, because Jonny and Nina remembered me later when looking for a finance coordinator.
Wow, that worked out well — for you and for Roy Group. What was your meandering path to this place? Nina mentions a master's in anthropology? And you used to run a zipline company? You just keep getting cooler.
Yes, I have my Master of Social Anthropology. I wrote my thesis on the power dichotomies present within tourism. Interesting stuff!
After grad school, I worked in events management – running regattas and athletic programs at the Gorge Rowing & Paddling Club, and organizing mixers, trade shows and galas at the Greater Victoria Chamber of Commerce. These roles taught me the necessity of time management (!) and the real power of adaptability in the face of competing priorities and ever-evolving plans.
At Adrena LINE Zipline Adventure Tours, I learned to juggle operations, HR and sales while initiating my first foray into bookkeeping and payroll. It was a lot of work, demanding that particular brand of extreme versatility required of people who run seasonal tourism businesses. My days were long, varied and full, and while it was an absolute pleasure to work with such a fun, capable team, I soon realized I needed a change.
I decided to take a step back and focus exclusively on finance. I've always enjoyed solving puzzles, and I do love details. I believe I have a brain for math – although please don't ask me to do calculations in my head!
No on-the-spot math. Got it. What's your superpower, and how does Roy Group position you to use it more often?
I like to make others laugh, to lighten the mood and create a sense of ease. My stepdad once told me, "This is too important to take seriously," which really stuck with me. I value connecting with people on a one-on-one basis, listening to learn what's important to them, and finding our commonalities. Together we can see the positive, find the solution, and laugh along the way.
I'm also super organized. I love keeping track of details, creating spreadsheets (nerd alert!) and making all the lists. People often tell me that I'm quite driven, but I would be unable to achieve all that I do if I wasn't organized.
Talk about a Mentor who grew you.
I met Janna during our prenatal class in 2014. She turned into an incredible friend and Mentor whom I turn to for support and guidance. I admire the knowledge and strength she embodies, and strive to emulate how she has designed her life to support her passions. Never one to condone keeping it comfortable, Janna can be counted on to ask those provoking questions that prompt self-reflection and growth.
Mmm, that's exactly what Mentors are so good at. The big questions that make an echo. You embody the Roy Group conviction that there are leaders at every level of an organization — and that it's up to each individual to lead from wherever they stand.
Yes. You don't need an invitation. You can just … step up. You choose who you're going to be at work. You decide how you're going to interact with your colleagues, how much you're going to share of yourself. You decide how you'll react, what you'll emphasize. And you will be known for these choices.
Traditionally I've held roles where I interact with a large number of people, whether colleagues or customers. I now work independently more than ever, but I'm also choosing to show up more powerfully, creating connection in the face of independence.
"Creating connection in the face of independence." Well said. OK, there's this "burning blue" header on your magazine cover. What's the story there?
This is hilarious! I do have a lot of energy. And I don't even drink coffee!
I believe in living a full life. We only get one, so we might as well do all the things, right? I fill my life right up. I bring enthusiasm and intensity to everything I do. If I decide to do something, I do it with gusto, and I do it well. Sometimes my energy can be a bit much for people, so I often temper it with humour. Life is SO much better if you're having fun with others. Yes, I am an extrovert finance person!
But as much as I'm a bundle of energy, I do understand the power that comes with slowing down and enjoying the moment.
And you don't speed past the details. You're pretty on-point when it comes to noticing things.
It really is all about the details. Sometimes it's the smallest detail that can make the biggest impact. And if you don't pay attention, that detail can easily be missed.
It's important to slow down and really be present to the people in your life. Particularly when they share what's important to them. Sometimes it isn't explicitly communicated, but they still show it in their actions and values. It's our job to notice.
Tell me about your long-distance running. What does it give you?
I have a background in competitive sports. I rowed at the provincial level for many years, and then competed in off-road triathlons. I hold a strong love for daily exercise and the special camaraderie that comes with training in a team environment.
Trail running is my current expression of that love to move. Being in the forest gives me a chance to slow down and notice the natural beauty around me, while providing a space where I can challenge myself physically. I'm also fortunate to have found a phenomenal band of fellow forest dwellers who are always up for adventure. You can find me exploring any of the many hills and mountains on our fabulous island. Every time I run it seems to be uphill!
When you're not at work or going the extreme mile, what would we find you doing?
Hanging out with my two kiddos. I'm so very fortunate to have two beautiful, crazy children that love to hang out with me. We spend a lot of time hiking, biking and exploring the natural world. Or creating numerous artistic masterpieces. Or making a mess of the kitchen and eating all the food.
And somehow, sometimes, I find the time to knit. I love the meditative headspace that surfaces when knitting.