Yolanda Moran
Practice Lead, Enterprise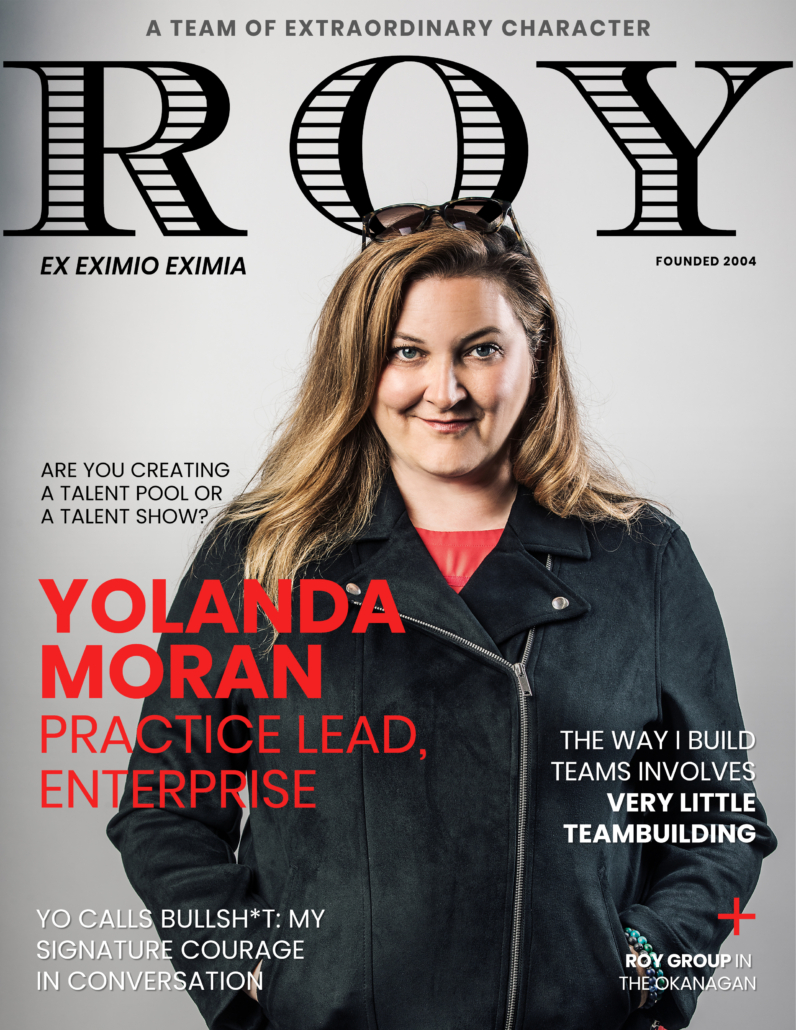 Yolanda has been looked to for leadership from a young age. A shining beacon of clarity amid the dust of uncertainty, Yolanda steered Flight Centre Canada through its start-up and growth years, honing her own leadership competencies over decades of hands-on experience. New offerings, new divisions, tactical shifts, mergers — she navigated the company and its leaders through all of it, embedding consistent and workable solutions for teams of up to 1000 people. Now she brings her expertise to Roy Group, leading our Enterprise vertical.
What brought you to Roy Group?
In 2008 I was working as Western Canada Operations Leader for Flight Centre Travel Group. My boss at the time had heard about Roy Group, and invited Ian in to run a half-day workshop with our senior leadership team. From that first introduction, I was a raving fan — both of Ian's and of the tools he was providing. In the years that followed, as I moved into VP of Retail Operations and then VP of Leadership Development for the Americas, we continued to bring Roy Group in to work with our leaders; from there I was fortunate enough to have Ian take me on as a coaching client. The impact of working with a coach had an immensely positive impact on me personally and professionally. It changed the way I lead, and it changed my career trajectory. After many years spent honing my leadership and coaching practice, in 2018 I made the natural shift from Roy Group client to Roy Group practice lead!
Did your formal education set you up for coaching and leading?
My formal schooling is in theatre arts, but my leadership learning is hard-won from the corporate environment. I have over 20 years of experience there, most of which came through my 18+ year career at Flight Centre Travel Group. My time as VP Retail Operations Canada and VP Leadership Development Americas set me up to understand the unique challenges of leading large teams and dispersed multinational teams, and gave me first-hand insight into the power of a coaching approach to leadership. Working in a fast-paced, highly driven business environment taught me the impact of prioritizing self-development, and showed me how a leader's conduct either makes or breaks a team.
Tell me more about the other insights and abilities you've picked up along the way. What would you say is your gift?
My gift is my ability to connect on an individual level. I am fascinated by people, and I have a genuine curiosity about their stories, from cab drivers to CEOs. I seek to understand what has contributed to who they are, their worldview, where they've been, where they want to go and why, and I'm always wondering how I can support that. It took me a long time to see this as something unique; in my youth, I believed everyone operated this way. Like most of us, I've worked for amazing leaders and those that were…less than amazing. Experience has taught me that those who are willing to ask the right questions, hold space for someone else without a personal motive, and genuinely want to see another person thrive are the ones we call Mentor.
How does your knack for connecting with people help you in your work with Roy Group?
Connecting deeply — recognizing the individuality of each person — makes me a better facilitator and coach. I can sense when there's a question waiting to be asked or a story needing to be told, and I hold myself to the expectation that each person on a Roy Group course or in a coaching session will walk away feeling a connection – to the content, to the tools, or to me. That connection must be made in order for each individual to truly reap the transformative benefits of our work. My mission is to ensure each person takes away something of value from their experience with Roy Group that they can use in business and in life.
You're known for being a no-nonsense kind of person. Tell me about the value of experiential, super-applicable learning, like people get in a Roy Group course.
Sure. Well, there's no denying time is our most precious commodity, now more than ever before. When it comes to leadership development, if it doesn't offer immediate and applicable value, then I'm not interested. I am constantly asking myself, "Can a person use this in their day-to-day reality?"
What values do you hold dear?
Trust, integrity and irreverence are some of my personal core values. I strive to build and keep trust and hold true to my word.
Irreverence?
I try never take myself too seriously! The sharing of laughter is for me an essential ingredient to relationship-building and community-building.
Sounds like you belong at Roy Group. What's the best part of working here?
The people and the collaborative approach to the work. Every person on the team brings their own special brand of excellence and a genuine desire to contribute. There's an innate drive to positively impact the lives of our clients, to consistently deliver above expectation, and to challenge ourselves to shift and grow. We've built an amazing team. And that's a strength we bring when we work with other groups. Team-building takes care of itself when you align work with people's unique strengths, foster an environment rich in feedback, and model honest and productive communication. Trust builds teams. If there are hidden agendas or half-truths, it's not going to work.
And now Roy Group is expanding to work more in other parts of North America, including your own backyard.
Yes! We love working with people in our local communities, and I'm elated to play a part in bringing more of the Roy Group to the Okanagan region of southern British Columbia. There is so much happening in this special corner of the world, from tech startups to tourism and everything in between! Roy Group is here to support the elevation of leaders in the Okanagan, and to bring each individual's practice to the next level.
So Yo, when you're not working, what do you do?
My family and I recently relocated from Vancouver to Vernon BC, where we have been enjoying all that life in the Okanagan has to offer! We love spending time on the lake, boating, fishing and swimming as much as we can. Travel is a huge passion for me and I've been lucky enough to visit over 40 countries so far. We are working on adding more stamps to the passports every year to ensure the travel bug also bites our seven-year-old son.
Any oddball skills to share?
I was a magician's assistant in my early twenties, so I can navigate my way through a sword box. I can also be cut in half when the occasion calls for it.