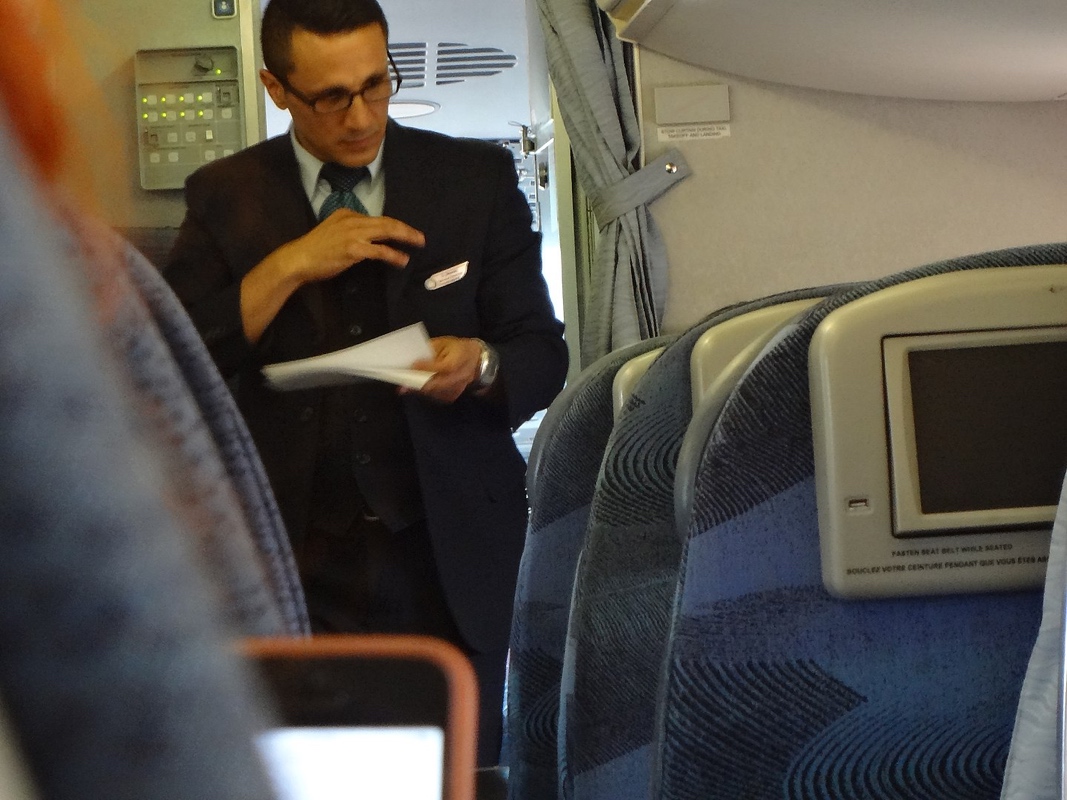 By shankar s. from Dubai, united arab emirates - The chief steward makes his rounds, CC BY 2.0, https://commons.wikimedia.org/w/index.php?curid=80162802
Conduct: Culture or Character?
By Mark Bell
Recently, for whatever reason, I have been acutely tuned into and moved by small but big acts of compassion from people who have put themselves at the heart of a situation and offered their best to lead. These seem to be individuals who were not concerned so much about "the job" and much more interested in the actual work.
A recent example got me thinking: has the organization these leaders are members of wonderfully nurtured a culture to enable such simple and authentic levels of presence? Or is it that whatever their culture might be, "good people" will unerringly behave in the most appropriate and meaningful ways?
I have often also pondered why some people seem to do excellent work no matter the task, circumstance or environment. I have a friend who excelled wherever he earned his money. During our student years, I worked with him in bars, on building sites, in offices and on farms. He has since gone on to apprentice in his profession and has grown to be a senior leader. In each of these arenas he has done wonderful work — no matter the variety of role, the clients he was facing, the people he worked with, or who reported to him. Culture? Stellar individual? Character? Emotional intelligence? All of these and more?
An anecdote for you. A while back, I took a flight with a low-cost carrier. There are no frills here: the targets for this organization are to sell as much as possible while in the air, turn around, get people on their bottoms faster than you can say, "Is this seat taken?", and get back up off the ground as quickly as possible.
As we take off, a gentleman in an aisle seat three rows in front of me seems to pass out and collapse across the aisle, held in only by his seat belt. This is the first of this unfortunate man's ever-worsening, very ill moments during our flight.
Throughout the flight all the attendants, and the Spanish male steward in particular, care for him as though they are travelling with him, as though he is a member of their family. The sales trolley is unceremoniously dumped; he is cleaned and freshened over and over, quietly, sensitively and with great attention. He is spoken to throughout, softly, almost in calm whispers, drawing as little attention to his embarrassment as possible.
Upon landing, the steward ensures everyone else waits, for far longer than the 20 minutes he is allocated in order to get the plane back in the air, as he personally helps this gentleman regain his bearings and gradually come to. The steward behaves as though there is no one else there, while simultaneously managing to seamlessly engage with all the other passengers.
It is past 11 o'clock now, but none of the weary, mainly business travellers complains about the delay. We all seem mesmerized by the elegance of this steward's kindness and attention. Without speaking, he insists that we also think only of this other person. We feel transported to a calmer, kinder place. We are moved by his humanity. As I leave, the steward is now wishing everyone else a good evening. I say, "Thank you," and he nods back to say that he understands what I really mean. There is a hush in the baggage collection area and strangers are talking quietly to each other.
Now, I have no idea if the organizational culture of that low-cost carrier creates this kind of powerful leadership. I have no idea if there is a rule that says this is what you must do if you are a steward in this situation. I am fairly sure it wouldn't have mattered: this steward simply could not not have behaved as he did.
I imagine this steward would have been a success in bars, on building sites, in offices, on farms or in any other profession. It is who he is.
---
Mark Bell is a special advisor to Roy Group and co-founder, with Ian Chisholm and Robert Henderson, of re-find the future.
https://roygroup.net/wp-content/uploads/2019/07/Air_steward.jpg
800
1067
Roy Group
https://roygroup.net/wp-content/uploads/2019/06/RG-logo-small.svg
Roy Group
2013-03-01 20:03:36
2019-09-21 14:13:58
Conduct: Culture or Character?