Well, we're still standing! Wasn't easy.
(Pretty sure easy is long gone in that rearview mirror.)
A few of us at Roy Group dug deep as the year drew to a close, asking ourselves what the most impactful learnings were over the last 12 months. Here's what Yo, Duncs, Nina and Chiz had to say.
"Trust is grease and trust is glue." This little gem was spoken by former Governor General David Johnston in an interview with Chiz. It's coming up everywhere in our client work. Coming out of such turbulent times, we see people needing to work fast and be aligned. This only happens with trust. We've spent much of this year working on this piece ourselves at Roy Group.
People are tender. These past three years have gone down so uniquely inside each human. When a person finishes a marathon and the adrenaline dips, it hits. Seems to us that this is where people are at nowadays: deeply feeling the impact of ploughing through the last few years. Proud of themselves, for sure—and needing some recovery.
"Money will do anything we ask it to." This comes from our friend Zita Cobb. And it's a humdinger. Look at the world we've shaped all around us. The degree to which we overfund things (like the World Cup in Qatar) and underfund things (education…innovation…our safety net) is staggering. As individuals, teams and countries, what are we going to ask our money to do? Because it will do anything we ask it to.
The world needs a new kind of space. Where people can hear each other. Re-entering the world of in-person gathering has shocked us with distractions that now feel deafening: HVAC, noise pollution, traffic. Roy Group is on the hunt for well-sounded rooms in 2023—and the conversations that can happen within them.
Leadership is a team sport. So is mentorship. Most people have such a strong mental model that these things come in the form of extraordinary individuals. And it is just not the full picture. It happens as a team.
If some of your work doesn't make you uncomfortable, you're probably not growing. A great lesson from D'Ari Lisle at Darkspark, when challenging a room full of philanthropists to reach out to orgs doing work they don't yet fully understand. Challenge is uncomfortable. Growth is uncomfortable. Truth and reconciliation can be uncomfortable. If you're pushing the limits of what is, leaning into the story of what could be, you've signed up for regular bouts of uncomfortable. Good.
When the stakes are high, people come ready for the work. Feeling invested is the mother of all ambition. When Roy Group works with communities whose language or way of life are at stake, they show up ready to do the work. It shows. The opposite holds too: resistance and foot-dragging are signs that a lack of emotional engagement is messing with focus.
Let go to move forward. You must be willing to release some of the old ways to let the new ways in. The last few years have allowed people to see what's possible when it comes to how and where we work, communicate, socialize and team build. But we can't bring back everything we used to do plus add in all the new ways and expect it to work. That's like topping a burger with a burrito.
People crave purpose. We're sensing less collective tolerance for doing work that serves scattered objectives or contradictory focus. Get clear—and watch reach and alignment grow.
We are the work. Roy Group engaged a business consultant this year to help us take a hard look at our positioning, refining it to reflect our why and learning how we can improve and streamline operations to serve our clients even better. The last few years have been a bull ride and many of us have been exhausting ourselves just to hold on. Holding on isn't good enough anymore. As we let go to move forward (see #8 above) we have to muster our stamina for the intentional change we hope to manifest in the year ahead.
---
And we wouldn't be Roy Group if we didn't invite you
into some meaningful reflection yourself…
Cofounder Anne-Marie Daniel offers a few questions to prompt some reflective journaling, or to foster some deep-reaching conversations around the holiday table: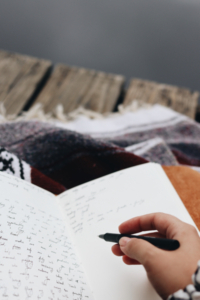 What are your best learnings for the year?
What are you most proud of?
Whose life path and leadership are you glad to have supported?
How did your routine support you this past year? How did it not?
What is one easy adjustment to support the atmosphere inside you in 2023?
What is one addition to your bucket list?
Photo by Jessica Delp on Unsplash
https://roygroup.net/wp-content/uploads/2021/10/NotEasy.jpg
592
800
Roy Group
https://roygroup.net/wp-content/uploads/2019/06/RG-logo-small.svg
Roy Group
2022-12-21 21:33:35
2022-12-22 07:36:00
Ten Takeaways From 2022