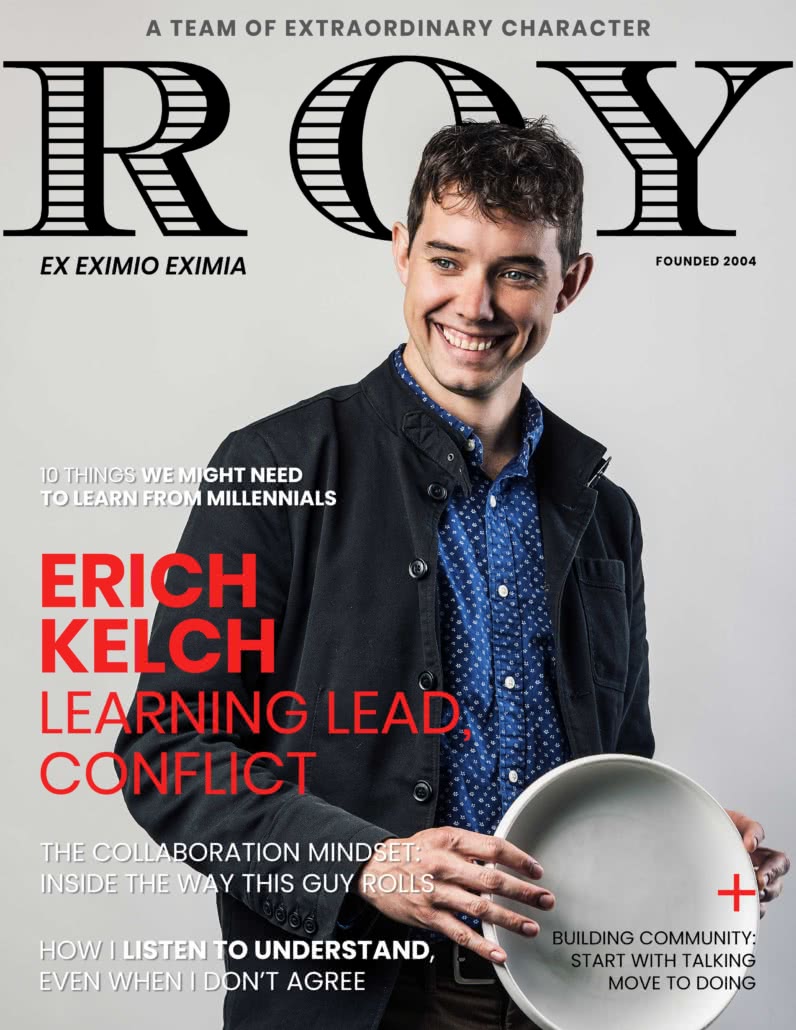 A moral rebel from an early age, Erich Kelch knows who he is and where he stands — and he does not stand for injustice of any kind. It's fitting, then, that he would become one of our key conflict management experts at Roy Group. With a penchant for approaching and starting conversations, and an open sense of curiosity about other people, Erich creates a welcoming space for others and is unafraid of the hard stuff. It is in this space of welcoming, curiosity and fearlessness that Erich makes his finest contribution to Roy Group clients.
How did you arrive at Roy Group?
I met Anne-Marie while driving the Community Action Bus for a Peninsula Streams tour — that's one of my jobs. We bring low-cost transportation to First Nations, environmental NGOs and other social impact organizations. After chatting with Anne-Marie on the bus, and after she learned a bit about my background in conflict resolution, she suggested we meet to see how we could work together. I joined her in Nanaimo for an Opportunity In Conflict workshop to see what I could bring to the table.
Of course Anne-Marie would be keen to hear about your background in conflict resolution! What's your education and experience in this area?
I have an MA in Dispute Resolution from the University of Victoria, and have taken additional courses and workshops in mediation and facilitation. My master's program set me up with the theoretical background and practical experience to teach skills around conflict, communication and mediation. I draw on these skills through my current work with the Capital Regional District, too, where I work as an engagement specialist, liaising with First Nations on projects and agreements that involve multiple stakeholders. Engagement and mediation is my jam.
What do you consider to be your 'gift', and how do you tap that through your Roy Group work?
I bring a gift of service: awareness in myself, and the ability to listen to another for what they need. I've spent a lot of my life interacting with people. I grew up in a full household, and have lived communally in houses of seven or more people for the past decade. In fact, I live co-operatively in a big house with three other owners and four tenants! My job for the past five years with the CRD has been all about building relationships between First Nations and local government. I love volunteering on passion projects and with social impact organizations to help make the changes I wish to see in the world. Being able to honestly share space with other people where we're building something new together is what I bring to this work.
I practice the skills we teach every day in my work and personal life. This allows me to bring real-life, relatable, dynamic examples to Roy Group courses and sessions. I connect with people in every workshop for them to bring out things in their own life that relate. I want people to leave a Roy Group experience with something new — something that challenges them that they can bring back with them, to improve their work or life situation.
How do you see conflict as a transformative force?
Conflict forces us to grow. It challenges our assumptions and ultimately brings opportunity, if we let it. Imagine you've got this new idea — invisible shoes — and it's the best idea! No matter what anyone says, you don't test it, you don't let it be challenged to let it improve from others' experiences . . . and then you push it out to market. It's probably not going to fly off the shelves. Same with your approach in the wider world. When someone challenges you, approach it with curiosity. You'll go much further.
Let's go to the deep beliefs. What do you believe in, and how does this inform your career?
I believe that we have a responsibility in this life to help others and take care of the planet's ecosystems to the best of our ability — realizing that humans are a part of those ecosystems. I believe we need a strong diversity of ways to get there, and walking with respectful curiosity and humility can get us there. I am one small part, but the pursuits I choose try to follow this path. And of course we should be trying to have some fun too!
You have a very collaborative view of how we get things done. How does this apply to leadership?
Leadership isn't driven or "done" by one person, it's how that leader operates in a team environment. It's the connections between us that produce something greater than anything we could accomplish individually. I don't believe I can achieve big goals on my own, nor do I want to. True collaboration is systems-level thinking. Working as a group, you create a new element that is more than the sum of its parts, bringing the best that people have to offer to solve a common problem. The key is a well-designed process that includes all those voices. It takes longer, and it's more work than just plowing through, but richness always follows.
People say Millennials are better at collaboration, and there may be something there. We have grown up in a more connected world than ever before. With access to so much information, viewpoints and mediums, it pushes us to be more flexible and open-minded in our thinking. Do our rules continue to serve us? The 9-to-5 grind? Dress codes? Hierarchies?
Tell me the best part of working with Roy Group.
The team, for sure! But I have to say, our clients are absolutely incredible. That they're even there in the first place, saying, Yeah, I could level up. I'm doing a good job, but I want to shoot even higher. That kind of humility and drive to learn tells me something about the people who join us to do the work of betterment. Every experience is uniquely created by the people who attend. Such a wealth of knowledge in every room! I feel lucky to share time with people who want to be somewhere, taking charge of their pursuits in life. More of that, please!
We're getting there, one human at a time. So do you have any oddball skills, Erich? Can you hold your breath longer underwater than anyone else you know?
Uh, no. At least, I don't think so. But that would actually be quite a thing! Every now and then I pull out all the stops by cycling into a parked car, but I try not to practice that one too much. Let me think. I once shot a minus 6 in Frolf?
Frolf? Like, Frisbee golf?
Yeah, I think of Frolf and Frisbee golf as the same thing, although some people really distinguish between the two. Like, technically Frolf is a public sport where you might involve pedestrians (or dogs, if they happen to catch the disc). But the discs we use would probably hurt something — or someone! We only play in the forest, far from people. It's more like golf in that way — because we're in a separate space — but it differs from golf in that it's free, it's in a natural environment, and it's much less formal. Cheaper, too.
Sounds super fun. So when you're not Frolfing or biking into parked cars, what would we find you doing?
Well, I have two other jobs. Other than working my two other jobs, probably trying to revive my dying tomatoes/kale/lettuce, depending on the month. My forever plan is to garden full-time, but unfortunately I can't trade carrots for car insurance. You might also find me spending time in the forest — definitely a peaceful, restorative place for me. And I've just bought a bow and arrow, so we'll see where that takes me!