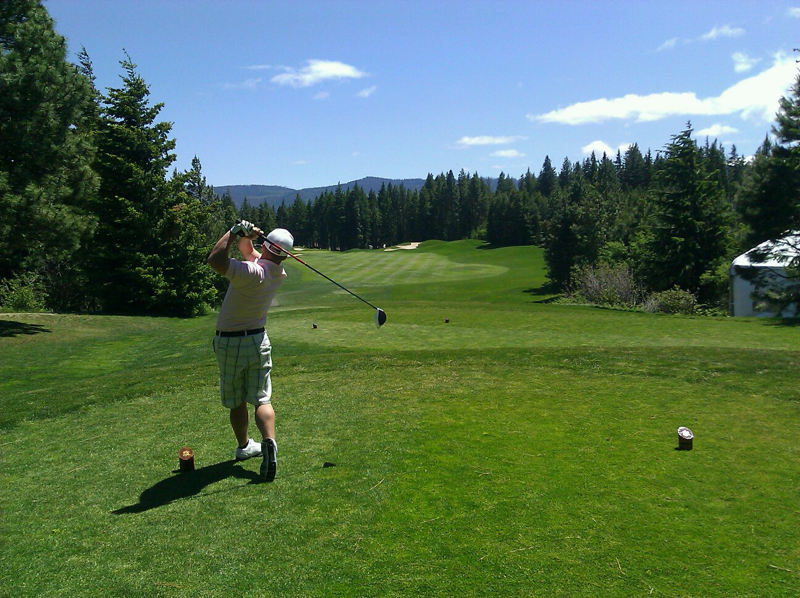 https://upload.wikimedia.org/wikipedia/commons/6/6e/Golfer_swing.jpg
You Can Win From Anywhere: What Golf Taught Me About Leadership
We shall not cease from exploration, and the end of all our exploring will be to arrive at the place we started and know that place for the first time. — T.S. Eliot
I was reminded of this line from T.S. Eliot's poem, Little Gidding, upon joining Roy Group. I had wound down a long executive career in the wholesale, retail and finance sectors, and was excited to join this team on what seemed to be an important leadership journey. My immediate impression was that these people were excellent leaders, as evidenced by their attitude, approach, and how they value people and the world.
For my magazine cover on our new Roy Group website, Chiz (Ian Chisholm) coined the headline 10 Things Golf Teaches Me About Leadership. I laughed when I first saw it, but I now realize that I can legitimately list most of leadership's rules and follies beginning with my experience with my own Mentor. In fact, I believe you can learn almost everything you need to know about a person — their character and leadership style — during the course of a four-hour game of golf: how they approach leadership of self, and deal with integrity through challenge and change.
I can remember the summer days when it first occurred to me that I had a capital-M mentor — and I can still remember the day that I decided on the type of person and leader I wanted to become. That was when my "exploring", as Eliot calls it, began.
It was my 14th summer — a hot, hazy afternoon — and my dad had dropped me off at the golf course. After introducing me to golf and playing a few rounds with me that year, he had recognized it was time to pass me off to someone who could teach me more than he could.
On my own for the first time on a golf course, I stood near the first tee. That was the day I first met and got to play with an amazing golfer. A champion.
My father's friend approached. "Would you mind if I played along?" he inquired.
I smiled back and pointed at the first tee. To me, he seemed a very old man, a little stiff in body, but relaxed and light in his physiology and expression. I liked him immediately.
I was stunned when he took the tee and crushed his 4-wood, driving a high shot that seemed to stay in the air forever before finally landing on the back of the first green, a very long par 3.
My turn. I hit a good one with a going draw. I had an insanely strong grip in those days, and the clubface at impact always moved the ball left. Couldn't hit straight, but I had good distance. My ball landed 25 yards short and left of the green — one of my better efforts.
He parred. I felt pretty good with my bogie 4.
"What if you turn right hand over a half-inch to the left on that grip?" he offered a few holes later. "Let's see what happens."
I did what he said, and immediately hit a fade. I watched incredulously as the ball curved from left to right.
He smiled. "You can make the ball do anything," he said. "And it always starts with the grip."
This time, he hit his tee shot lower. It moved left to right. Then the old man hit a punch 7-iron approach shot downwind to tap in range on the par-4 sixth hole. It was the first birdie I had ever seen.
I made a par 4, which was a breakthrough for me.
Right then I said to myself: Face it, Shep. You know nothing about this game. But maybe you can learn.
After eight holes he was two under par.
"I like your swing," he said. "Tempo is not easily taught, but you have it." He hadn't said much during the whole round and I didn't even know his name, but I felt better about myself and more confident about my game.
"I play most days," he said when the round was done. "My name is Walter…Champion. Maybe see you again sometime."
That was in 1972. For the next two summers, Walter Champion served as my golf teacher and mentor. During those summers, I visibly honed my game. What was less apparent to me was that Champion's influence was also honing my leadership mind.
When I met him, Champion was 70 years old and a former provincial senior golf champion. I learned that he grew up near Troon, a famous Scottish seaside links course where they sometimes played the British Open. He had been a caddy there during the First World War, and had moved to Canada in 1927. He called me "laddie".
Champion had a very smooth, relaxed approach to golf and to life. I never saw him become upset or show even mild concern, no matter what kind of situation he was in. He always looked very interested, whether it was in the shot he had to play or in the conversation he was having. Sometimes, when he had an "impossible" shot, he was downright excited.
Late that first summer on a drizzly afternoon, I learned what a true competitor Champion was. We were facing the seventh hole — a mean hole that featured a tall, broad oak tree smack in the middle of the fairway, maybe 175 yards off the tee.
A good drive could have flown it, but this day, Champion's drive caught the top of the tree. We waited, listened, looked.
Nothing.
"Where is it?" he demanded.
"I never saw it get spit out," I said. "It must have flown through."
I hit a great drive past the tree, leaving just a short iron to the green.
At the green, Champion's ball was nowhere to be found. I grinned to myself. Looks like I got you, old man.
Champion looked around on the edge of the fairway, left and right, considering his situation. Then he walked back to the tree and stood beneath it. The first branch was about seven feet up.
He peered upward through the foliage. "I thought so!" he said. "Give me a boost."
Give you a boost? I thought. You're 70 years old! And it's raining. And that branch is way too high.
Of course, I gave him my knee.
He clambered up onto that first branch and surveyed the situation.
"Nine iron," he ordered.
I flipped it up and he grabbed it.
He one-handed it like a tennis volley. The ball rattled down and ricocheted clear of the tree. Then he hit a low-iron shot to about 15 feet. Although I had a shorter putt to equal his 4, once he'd jammed it in the back of the hole for an impossible par, I knew that I was not worthy, and missed mine.
I was stunned for the remaining holes we played that day, astounded that a 70-year-old could climb a tree and save a par from a real "bird's nest" lie. He always liked a challenge. Whenever we played that hole again, he would smile at that tree.
It was the middle of the following golf season when I finally beat him. On the final tee, I was one up on him. I figured I would need a par to hold the thin margin and take the match.
In my desperation to win, my old snap-hook showed up. I watched, heart in my throat, as my tee shot sailed into the trees.
As Champion had shown me how to do in similar tricky situations, I searched around and found an opening. I thought I just might pitch it through and up near the green, and still have a shot at par — and a win.
My shot flew past one, two, three trees and caught the fourth dead centre, sending the ball back toward me on my left.
Champion spoke to me from the fairway. "You're going to have to hole this one." His own approach shot sat maybe ten feet from the pin.
"See the shot," he urged.
I released my frustration at my first failed attempt. Champion would go for it, I said to myself. He would at least give himself a chance.
I pictured the shot in my mind's eye: through the trees, maybe two bounces through the fringe, then up onto the tilting green, breaking maybe two feet to roll toward the hole.
A feeling of focus spread throughout my body. I drew the club back and accelerated through the vision I had had. I watched, mesmerized, as the ball followed my detailed instructions and curved into the middle of the hole for a 3!
Champion waved, smiled and, not seeming too surprised, walked onto the green, quickly stroking his putt to the back of the hole for his 3.
"Congratulations," he said. And then: "If you really want to, you can win from anywhere."
I never forgot it.
My game improved over the rest of the summer. I won only very rarely, but we always talked about that first win.
After my teenage years, I went back to that old course where I had learned the game and so much more, but I never saw Champion again. I never mentioned him to my parents, or even my friends, for many years. Now, all these decades later, I still remember his deliberate accelerating swing, the clarity with which he focused on each moment, for each shot. I can hear his laugh, and see those decisive putts dropping into the hole. And I can see him climbing that tree as clearly today as I did all those years ago.
How you play teaches by example — and that quality of character is a significant part of what Roy Group imparts to our clients. Can you let a bad shot go? Are you making the most of yourself and your opportunities, or do you prefer to wallow in the crashing surf of "bad luck" and "bad bounces?" Are you a risk taker? Can you think with inspiration and even audacity? Can you be decisive and committed? Do you appreciate your fellow fairway travellers and affirm them? Can you win and lose without being particularly attached to either outcome?
Champion was a great leader because he was genuine in everything he did. He was purposeful at all times, yet relaxed while being focused and aware of everything around him. He was also a great role model because he often took the time to appreciate my play, or to mention something seemingly innocuous that inevitably turned out to a superb bit of teaching or redirection. To be affirmed and appreciated made him a hero to me.
During my mid-teens, I had thought I, too, would become a teacher. And although my life later flowed toward business and leadership roles after university, I always kept those special summer days and experiences in my heart. And so, coming to Roy Group as a post-career vehicle did feel a little like déjà vu — like arriving back where I had started all those years ago — but with the awareness and clarity of knowing where I am now.
---
Chris Shepherd is a Roy Group Special Advisor.
https://roygroup.net/wp-content/uploads/2020/03/Golfer_swing_800.jpg
598
800
Roy Group
https://roygroup.net/wp-content/uploads/2019/06/RG-logo-small.svg
Roy Group
2020-03-13 16:47:41
2020-05-08 11:54:11
You Can Win From Anywhere: What Golf Taught Me About Leadership