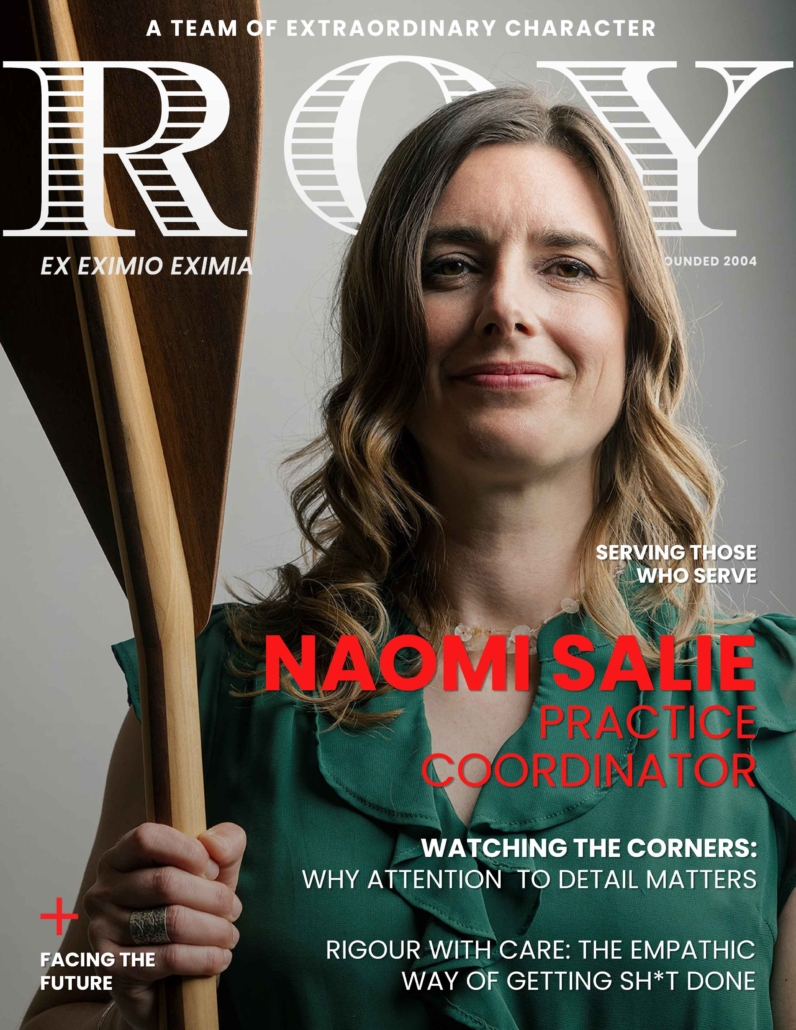 Naomi Salie plays a key role as specific support for our Public Service and Education verticals. With her diverse background and sense of adventure, she's an ideal person to navigate change and complexity with us! Vancouver Island-born yet widely travelled, Naomi values building community, collaborating with trust, and of course, celebrating her connection to the wild west coast any way she can.
You began your service with Roy Group as a Zoom host, and now you're taking on an exciting new role. Tell me what you were doing before you joined us.
I worked and volunteered in the social impact sector for about seven years. I was part of the advancement team doing fundraising and development for Power to Be Adventure Therapy, a not-for-profit organization that facilitates outdoor experiences for people living with barriers to accessing nature. That's a cause close to my heart. Power to Be does good work in the world. I also sat on the board of Swan Lake and Christmas Hill Nature Sanctuary for several years, first as treasurer and then as vice chair.
Did your academic work out of high school actually line up with what you ended up doing? Always curious to ask this question.
Yes, quite a bit! My background is in the environmental sciences. I have an Environmental Technology diploma from Camosun College and a Bachelor of Science in Environmental Management from Royal Roads University. This set me up for working with Roy Group as I have a natural curiosity about the world around me and an analytical mind. I'm always learning new things and seeking to develop myself. In university my classmates elected me for the Founders' Award, which recognizes those who exemplify the qualities of leadership, sustainability and personal development.
That's an honour—and at a young age. How do you bring forth your

Leader's Gift

with your Roy Group work?
I have a unique ability to set people at ease and make them feel comfortable, valued and cared for.
That connects your magazine header about watching the corners. What's involved in delivering Naomi-level quality?
I have an eye for detail and put a great deal of effort into delivering a product that reflects Roy Group's level of attention and care. Quality is one of our core values, and that value offers a very comfortable fit for me to serve. I also value community and building connections and I value life-long learning and growth.
Can you talk a bit about the value of life-long learning? How has that shown up for you?
 I am constantly reading, listening to podcasts and taking courses on a range of subjects that interest me. Most recently I completed an 80-hour wilderness first responder course so that I am better prepared for outdoor adventures.
How does your work with Roy Group help set our clients up for their best future(s)?
Post-pandemic, we can see that this is a time of great changes in the workplace. More so than ever, people want to work in organizations that align with their personal values. They want to work with organizations that demonstrate a sense of social and environmental responsibility. Employees are actively looking for leaders who "walk the talk", lead with vulnerability and are geared toward personal growth and development. Roy Group is poised to guide industry leaders to adapt during this time of accelerated transition and flux.
Well said. You've had a varied career and held all sorts of roles across Canada. How is this breadth of learning advantageous to you?
 My work experience is diverse, and it crosses public, private, corporate and non-profit settings. That diversity has given me a unique lens on a variety of industries. I bring a broad skill set, am highly adaptable and can think outside of the box. I have also worked for a variety of leaders and have seen the impact of leaders who lead effectively versus those who have not developed those skills.
Sounds like there might be some stories there. Is there one you could share?
I think it's important for leaders to instill a sense of trust in their team. Certainly, hiring the right fit is part of the equation but an effective leader has a knack for drawing out the strengths of their team and helping to guide individuals to their own inner wisdom. Employees also need to feel safe to try new methods and innovate. New approaches may not always lead to successes, but they will always lead to learning opportunities. Now more than ever we are seeing a challenge to the status quo and a push back on a business-as-usual attitude.
When you're not at work, what do you like to do?
I'll often have a paddle in hand—be it a paddleboard, canoe or kayak paddle. I am happiest when I'm out on the water. I love sharing my passion for self-propelled, water-based sport, and I teach standup paddleboarding to young people. When I'm not able to be there, I'm usually hiking or scrambling somewhere. I also enjoy photography and capturing images of the beautiful natural wonders around me. I'm often learning about birds, plants and fungi that I come across on my excursions.
You embody our core value of vitality, doing things to restore your energy and reconnect yourself with nature. That's so healing.
Totally. I also enjoy foraging sustainably and making homemade concoctions like pickled chanterelles, kombucha and elderflower cordial.
Between you and

Erich

, we could make a mean Roy Group feast! Every spring he collects bunches of stinging nettles and then makes pesto from it.
That's awesome. I love to cook for friends and family, especially using locally sourced food, produce and home-grown ingredients. I've even made a pesto or two. There's a lot to be said for good food that is made from scratch with heart.
Any special passions? Truly otherworldly capabilities? Like

Heather

's ability to fall asleep anywhere? Or

Nate

, who speaks five languages?
My latest hobby is tending to my mason bees. I'm a bit obsessed!