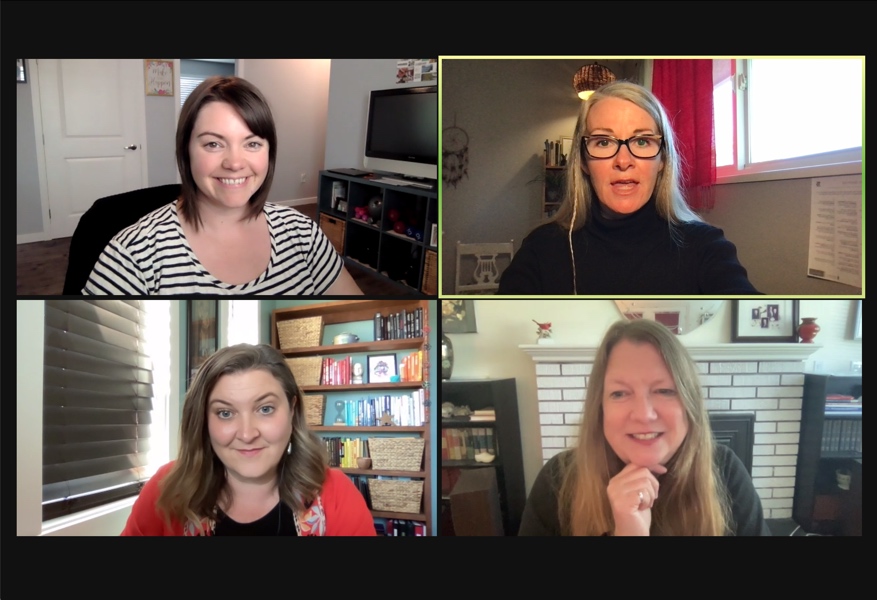 How I Learned To Bake Bread With A New Set Of Tools (Or: Exploring My Dread Of Virtual Learning)
By Donna Horn
Great bakers bake great bread. That's one of Robert Henderson's lines.
It means even when you've learned your craft, you keep honing and advancing and growing in mastery. You don't worry about "being great". All your energy goes into simply baking the best bread you can. After a while, you get pretty darned good at your bread-baking. The bread that results is also seriously good.
But what happens an unseen force invades your kitchen, flips the butter out the window and runs off with your loaf pans?
CHANGE is what happens. (Ugh. Who ever likes that?)
In our line of work, our bread is curating and sharing the thinking and tools that help leaders along that path to mastery. Our bread is helping people commit to developing the strong, resilient relationships they know are needed to work most effectively together. Our bread is awareness, connection, trust, tools, believing in others. All of what we do revolves around human betterment.
Until 2020, the assumption was that this kind of learning and sharing worked best face-to-face.
Frankly, I don't think anyone at Roy Group seriously weighed virtual learning against in-person…ever.
It wasn't even on our radar. Why would it be? Our best work, the work of people and relationships, was conducted by gathering together in full-day, face-to-face sessions, seated around a room or a table, with intentional breaks for eating and conversation and practice. Tennis. Skis. Skits. Breaking bread together. When we're up at Nimmo Bay, it's kayak trips and forest walks and orchard lunches and barbeques centered around connecting with others.
We always laughed. We moved around. We noticed. We read and relied on and responded to body language more than any of us knew.
So when COVID brick-walled us, letting go of the way we baked our bread was hard. I found myself facing this crushing weight of reality. How am I going to survive without face-to-face workshops?
I didn't believe we could create a virtual learning experience that would come close to the way we felt when we were part of moving a whole conference room or dining hall into a state of excitement or realization—sometimes even tears (the eye-opening kind).
Mixed into my fear of losing the familiar were some limiting beliefs about what virtual learning wouldn't allow: Oh, I can't possibly…
I didn't know it then, but now I understand that I was travelling my slow way through the grief cycle.
From shock and denial all the way through anger and bargaining. You know the drill. I went through all the stages.
I resisted virtual learning initially. I love face-to-face workshops. I love the connections they create, the shared experience they leave behind. I love the awesome learning experience that we create. I didn't want that to be gone. I was in resistance and denial.
Since our group bookings had vaporized overnight, I suddenly had more time on my hands. I made myself busy with something completely different that took my mind off the spectre of virtual delivery.
I signed up for a Seth Godin workshop, to see how someone I consider an influencer in many of the ways I think are valuable to humanity creates virtual learning experiences. And I signed up to complete an accredited coaching training program, a long overdue goal.
My coaching program ran out of Australia, from a school that has never done in-person training—they've only ever delivered their content online. They seemed like a good muse. And Godin's course, naturally, was virtual.
I decided to watch and learn how other groups handled virtual learning and delivery. I went into each session primed to identify what I liked and what I didn't like.
They were fabulous.
Back at home (metaphorically, not physically, since I wasn't going anywhere), I listened skeptically to Chiz and Iain Duncan, who were at the leading edge of Roy Group's shift to offering virtual learning experiences. Listening to their observations and experiences—and witnessing their willingness to give it their all—helped move me to a place where I could make the leap, at least mentally.
As it turned out, delivering a virtual learning experience didn't end up being hell, after all.
I pushed off doing any virtual workshops until October. And when the first one finally loomed on my horizon, even though by then I'd experienced a fair amount of other groups' virtual offerings and was hearing from my own team that things worked really well…I found myself dreading it. Like the sick-to-my-stomach sort of dreading it.
I thought it was going to be just terrible. How could Roy Group, known for our elegance and ease and ability to connect deeply with people, possibly replicate the feeling of our experiences…without having bodies in the room?
Instead, I was amazed and surprised at how easy it was to connect with people on video, and how easy it was for them to connect with each other. I got to create a great experience for them. And they learned!
In the intervening months, I've listened to what our clients have to say about it. They're talking about how they've made this new virtual world work for them—enough so that in many cases, they're considering not returning to face-to-face workshops. Or at least choosing a blend of face-to-face and virtual learning.
I've read feedback forms from our sessions where people admit to having dreaded the experience at the outset, but they ended up loving it.
Or at the check-in they'll say, "I don't know how this is going to work. I'm not so great with virtual. How do I stay focused?" And at the check-out, that same participant will speak about how the virtual space gave them a chance to experience emotion and focus, just like our in-person sessions were known for.
We had this one brilliant young man in a Practice of Coaching session. He's on a team that usually engages in a lot of physical activities and hands-on training as part of his work, and he had previously experienced some online training that just didn't grab him. We were heading into our first break when he spoke up. "You know, I just want to say," he said [and I held my breath], "that this is the best learning I've ever had. And I think I'm speaking for the whole room by saying you guys are doing a really great job of this. Like, this is just a really good use of my time. And we're so busy…and I'm saying this a great use of my time."
Wow.
I think he was bracing for what a lot of people have experienced with virtual learning: a platform, a slide show, a video, then you read something, then you click NEXT, then you're on another page with another thing to read, and then there's an exercise to do.
It probably ticks all the boxes in terms of varied learning styles and good provincial education curriculum criteria.
But it sucks. Because it's not interactive. And it's boring.
I am here today, very pleased to inform you that not ALL virtual learning sucks and is boring.
What has turned out to be huge and unexpected for people is how well we can connect with each other on a virtual platform.
I think it's made even easier with the live nature of our sessions. There's a sense of We're here with you. We are with you right now, and all these other people are with you, and there's just something special about the liveness of it.
But to create that sense of We are with you, we keep our focus laser-tight on being intentional. With everything. You can't assume you're going to instantly be able to create connection through a virtual offering. You have to be intentionally and mindfully creating it as you go.
The details matter. We are very deliberate with the platform we choose to use. We use breakouts so people can go deep. We ask people to have their cameras on. We ask good questions. And we're mindfully leveraging our solid, useful content to create connection all the way.
A big advantage I've discovered about delivering virtual learning is the ability to pull people together from geographically dispersed locations.
We've been able to capture people who work for the same organization yet live in different communities—something we wouldn't have been able to do as simply pre-pandemic. It's been thrilling for them to spend time with teammates from around the province who are in the same role, who have similar experiences, concerns, aspirations and things that keep them up at night. They're amazed to learn they're not in it alone. There are other people living the same thing who they can draw on for support.
I've noticed when people come out of the breakout rooms, they're laughing, or they're grateful for the opportunity to talk with a handful of others about something that's important to them all.
They didn't have to travel to get to the sessions.
They're relaxed and comfortable because they're in their homes. (We think dogs are learning a lot of tools too.)
It's so great, especially for people who have an introversion preference. Virtual lends itself so well to enhanced inclusivity.
Guess we needed a global shakeup to loosen us from those old paradigms.
Here's the thing. People are going to be working differently from now on.
It's going to be different even after we can all hang out together in person. A lot of us want to keep working at home. The public service, for one, is actively thinking about what the future of work looks like.
The trickiest pieces are the seemingly little, but critically important, things. The water-cooler and hallway conversations are the hardest to create remotely, but it's still possible to have informal ways of connecting with other people. We just need to be intentional about that.
I will add that working from home lets you do a better job of self-care. You can eat when you need to, you can cook for yourself instead of dumping money on grabbing lunch, you can create the sitting and temperature conditions that are optimal for you, you can take five minutes to connect with a pet. You have far more control over your work environment when you're at home.
Even when your kitchen is turned upside-down, you can still bake great bread.
Someone broke my measuring cup. They hid my loaf pan. And then they used up all the butter.
But I cupped my hands to gather the flour. I decided my cast iron frying pan would do a fine enough job. And I rubbed it with olive oil.
And I damn well baked the bread.
---
Donna Horn is Roy Group's Practice Lead for Public Service.
See for yourself how affirming, productive and memorable our experiences are.
https://roygroup.net/wp-content/uploads/2021/06/Zoom-session.jpg
600
877
Roy Group
https://roygroup.net/wp-content/uploads/2019/06/RG-logo-small.svg
Roy Group
2021-06-10 11:56:30
2021-11-09 09:03:14
How I Learned To Bake Bread With A New Set Of Tools (Or: Exploring My Dread Of Virtual Learning)