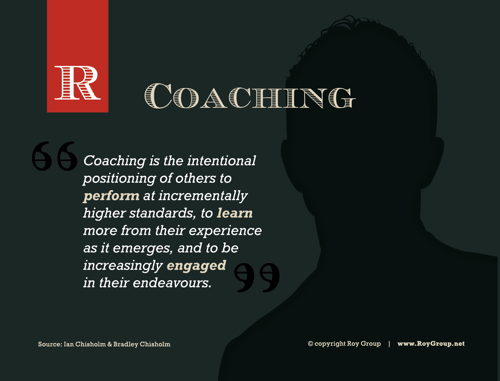 Roy Group
No one has ever achieved peak performance without a coach.
— Verne Harnish, author of
Scaling Up: How A Few
Companies Make It And Why The
Rest Don't
One of the pivotal moments where I wished I had had the understanding, practice and grace that coaching offers is when I first moved into the vice-principal role at a local middle school. I was a teacher at the time, and overnight was asked to move into the VP role. This was an unexpected offering. It came with a whole load of doubt and insecurity, and one of the steepest learning curves I have ever experienced.
I wasn't long into the position, maybe six weeks, before I began to feel very lonely. I felt like an impostor. I was so out of alignment with how I was experiencing myself that I really began to believe I had made a terrible decision.
One of my previous students dropped by my office one afternoon and asked me how I was doing. She said I looked stressed. I was caught off guard that a Grade 8 student would notice that.
She went on to ask me what was stressing me out. As I began to share a bit about the challenges of being in a new role, she interrupted me. "What has happened to Miss Bond?"
I asked her what she meant by that.
"Well, how would Miss Bond handle this?" she asked.
It was in that moment — with two simple questions and a kind invitation by this young human — that I realized I had been approaching this new role from everywhere but within and of myself. I experienced an instant shift in perspective. I began to feel more aligned internally, enabling me to move forward in my new role with excitement and a deep sense of ownership.
Little did this student know that, without judgment, she had helped reconnect me to the resourcefulness and strengths that lay within. She had set me on the path to genuinely finding my way into the VP role and its responsibilities.
Coaching is very much like this experience. Our inner knowing is such a rich resource for our own situations. When someone can help us access that knowing and make meaningful connections, we are able to see the possibilities and keep moving forward. I love Warren Bennis's quote about this: "Becoming a leader is synonymous with becoming yourself. It is precisely that simple, and it's also that difficult."
Shining A Light On What's Already There
When I began my coaching training, I remember saying to myself, "Ah, this is what this is." My sense at the time was that I had been doing this coaching thing all along, in my role as an educator and as a school administrator. There was some truth to that, however there were also some clear distinctions that I became aware of.
Coaching is more than listening. Coaching is a clear intention to create space in a conversation for someone to explore and fully own what the path and outcome need to be for themselves. It requires us to listen without judgment, setting aside our own opinions, advice or direction. When coaching, we ask questions to create awareness within the reality of that person's experience. We ask questions that strengthen how that person connects with the rich resources and possibilities that not only surround them, but also to those that are within reach inside. The magic of coaching helps to identify and transform the limitations that are at play, propelling us to move forward with increased clarity and purpose.
I often think about coaching as a way to "light up" or "reignite" that which is already there. Think old-fashioned lamplighting as we walk the streets together.
We Travel Farther Together
There is a path to ourselves and our capacity that we cannot see on our own. Parts of the view are limited. There are only so many perspectives our mind will allow us to have access to through our own filter. Having someone who can intentionally reflect back to us our truths and tendencies, all in the spirit of continuing to grow and become our finest selves, is an incredible gift and builds capacity for what is needed in our roles, our relationships and our organizations.
Great leaders engage in personal work at this level. Working in partnership with a coach supports a leader to strengthen and develop their own capacity. When leaders pay attention to their beliefs and actions, and are willing to explore what else might be possible or accessible, they amplify the level of influence their leadership can have to impact the culture and performance of their organization. When a leader invests in and pays attention to the inner world at play, greatness emerges.
The Benefits of Coaching
Coaching creates a space for the practice of reflection. This practice allows a leader to explore thoughts, feelings, information, patterns and considerations so they can choose the best way forward. Clients often will comment that they emerge at the end of a coaching session clearer about the right action for moving forward.
Coaching is relational and empowering. When a leader values the coaching process and adds a coaching approach to their own leadership practice, they invite and influence a culture of practice within the organization. Many Roy Group clients who have integrated coaching into their own leadership practice have noticed profound shifts in their organizational culture. Without directly talking about trust, they discovered that trust among their team grew. Without directly addressing motivation levels, performance and accountability strengthened. Without directly addressing retention, the way people began to feel and how their contribution was being valued dissolved the issue. Each of these organizations invested in a practice of coaching, sharing it not only with the top tier of leaders, but throughout the entire system, developing capacity across the organization.
Coaching Unlocks Possibility And Positions You In Choice
When we enter into a coaching relationship, our sole aim and responsibility is to be intentional with positioning that person to be the best version of themselves possible. Each time we meet with someone, that possibility will be different and will grow. Coaching requires us to work in partnership, to be curious and skilled with powerful questions, creating the opportunity to understand ourselves better and heighten our self-awareness.
Awareness creates choice. Choice creates possibility. This is really what I see not only work being about, but life itself: the unfolding possibilities on a moment-to-moment basis, considering how we want to experience ourselves and how we want others to experience us.
As leaders, we have an opportunity to pay attention to more than just our tasks and outcomes. We have the opportunity to create a different kind of experience for the organization, for the individuals who make up our team, and for ourselves. Coaching invites and strengthens the existing capacity to position others for increased performance, deepens levels of learning and fosters new levels of engagement.
My Grade 8 student had no formal coaching training, however she approached my issue with inquiry and she cared. Although she may not have been able to articulate it, she wanted me to understand myself better, to stand in choice, and to dig for those capabilities that I already possessed — the capabilities that would guide me in the task ahead.
Imagine the power of that for everyone in your organization.
---
Anna Lisa Bond is the Roy Group Practice Lead for Education.
https://roygroup.net/wp-content/uploads/2019/12/12-05-11-RGROUP-stickers-LD-04-Coaching-500.png
381
500
Roy Group
https://roygroup.net/wp-content/uploads/2019/06/RG-logo-small.svg
Roy Group
2019-12-06 13:11:56
2019-12-06 13:11:56
The Practice of Coaching: Unlocking Your Inner Knowing