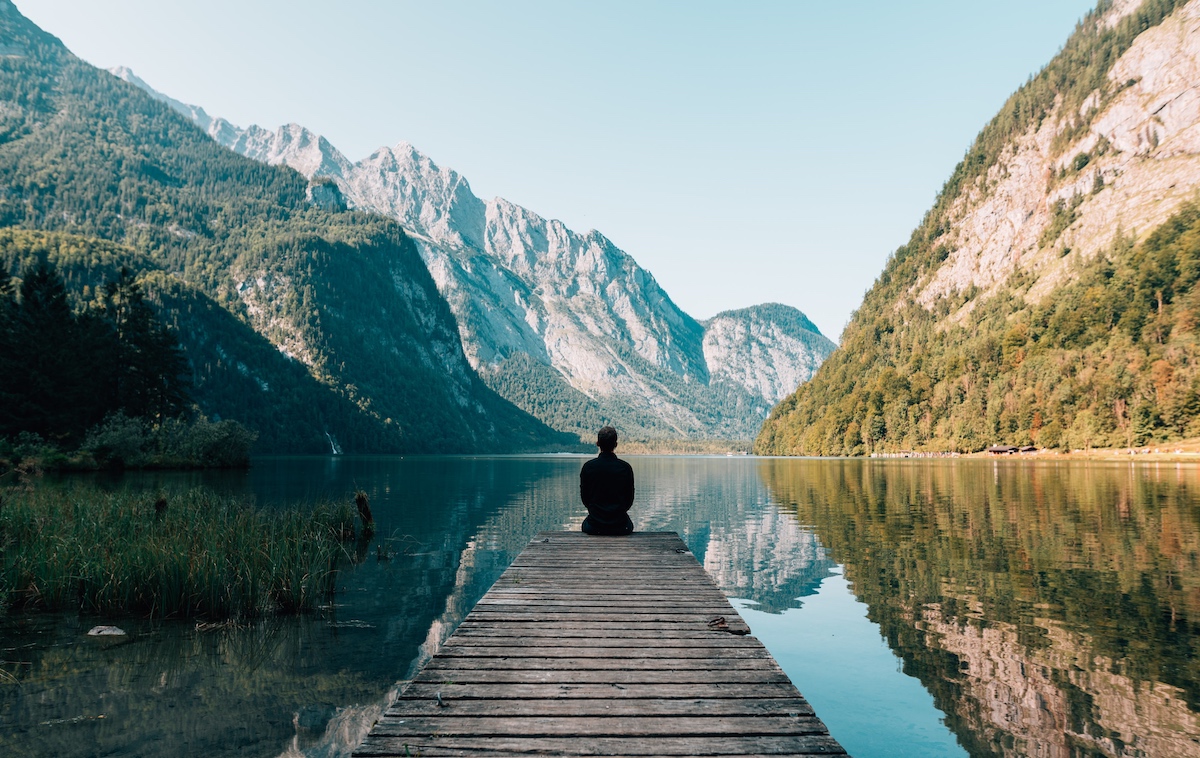 Start. Again. A Practice Of Accountability
By Ian Chisholm
If you've known me for any length of time, you'll know I like the idea of new starts. I like early mornings. I like September for the new start it represents. I like January for the same reason. And recently, I realized that you can make any day of the year a new start, especially if you just need to start. Again.
Let me explain.
When March of 2020 brought the pandemic to our doorstep, we shifted into a heavy regime of work to convert our business into one that could be delivered online vs. in-person. I could tell you that I like work — even that I love work. The truth is that work is a vice I struggle with. The way I work can be excessive, compulsive and self-depleting. The crisis at hand really just gave me a context where it would be acceptable to give in to my vice.
So I did.
By December, I had run myself aground. The last time I had worked this way was in my early 30s (which was followed by six months of convalescence, sitting in a lawn chair with a blanket over my knees). I didn't feel good at all. It was hard to focus, I had put on a lot of weight, and my adrenals were spent. I needed to ask for help.
I started working online with a personal trainer named Nick.
We would meet twice every week: on Mondays to go through a new workout that I would do three times that week, and on Fridays for more of a chat about where I was at. I could tell that Nick knew his stuff. What I didn't know was just how great a coach Nick was. This young guy had a serious system for helping people like me to "hack" ourselves.
Over the next nine months, Nick and I would treat my wellbeing as an experiment. What differences did I notice when I changed my water intake? My coffee intake? My food intake? What difference did my body temperature make before bed? How many hours of sleep felt rejuvenating? What was the rhythm of my week and when did I run out of steam? How could I break that up? How could I address sources of stress? What kind of movement made me feel better? What kind of exercise made me feel stronger?
We cleaned up my entire world.
Work went online…and I went to work. I got serious about rituals. Lighting an early morning candle and doing yoga. A pitcher of ice water on the corner of my desk with my vitamins. Strength training. Healthy snacks. Fasting. Walking phone calls in the forest.
It was like my soul had signed a contract with my body — and made a promise to keep it well. You can't pour from an empty cup. Finally, after decades of hammering through life like a young sheepdog, I was conserving effort and taking responsibility for my own resilience.
I reduced my "festive" waistline, increased my function, honed my ability to empty my brain of thought.
And then I tripped up.
Enter fall 2021. Restrictions relaxed, and the Roy Group team climbed back onto airplanes. We were eager to reconnect with clients in Alberta. Eager to observe BC Wildfire crews in action in southern BC. Eager to connect with executive teams on retreats.
I travelled for a month. Dropped right back into my old habits. Living by plane schedules, spending time in airports, early mornings, late nights, full days. Beer and wings.
My sneakers were always in my suitcase…but never got unpacked. The regimen I had created to nourish and uphold myself fell right off the table.
This is right around the place I normally start beating myself up. The shame flares go off, the hair shirt goes on, the self-blame loop whines back to life like an old phonograph cranking up.
I'm a screwup. Where's my self-control? I have no discipline. How will I ever stay fit if I keep blowing off my fitness regimen? I suck at staying the course.
That's just a taste of the things I say to myself. The spiral is slippery and quick. And ugly. There's nothing good down there. You know it. And I know it.
So I decided not to go down there.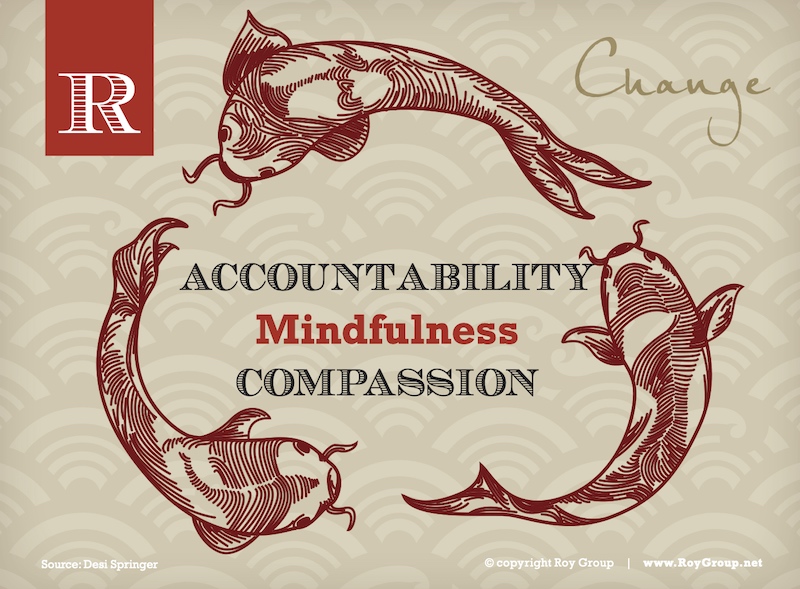 The concept for this Roy Group sticker comes from the mat of Bowspring founder Desi Springer. Springer describes Bowspring as "movement medicine" — a postural system that optimizes mind-body health through the body's natural curvatures.
The important starting place here is that in Bowspring, like in any practice, you must quietly take full accountability for your own practice. You can always ask for help…but ultimately your practice belongs to you.
Then, you open yourself up to mindfulness to grasp a sense of what is really going on — what is — and all the dynamics that you need to be aware of. For me, I noticed how good I had felt when I was practicing…and how less good I felt now.
Normally, once we become highly aware of what is, we immediately judge ourselves (or others).
Instead, what is required more is compassion: "I made really great ground and know so much more about myself now. I miss the habits that I created with Nick. In adapting to the world snapping back, I let go of some important pieces."
I didn't judge myself for losing track of my self-care. I just witnessed it, and decided that yeah, it's human. And it's okay to be human.
And that brought me right back to full accountability.
No blame. No recrimination. No negative self-talk.
No story.
No room in my mind for that sloshing around.
I simply started again.
Instead of, "You need to clean up your act and get back on track," I said, "Hey, you worked out like a champ for nine months. You learned a lot about what you need to be resilient. So you got thrown off for a month. Okay. Now what?"
Did you hear that? So what? NOW what?
That's what I mean by a new start. Not "getting back on the rails." I just cut cord with the story — the why, the how, the blame — and took action. Started over.
Accept where you are, right now.
Drop the story.
Choose your next move.
The very best part is that you can do this in any area of your life. With your children. With your partner. In work relationships. With your health.
We've created a learning resource that builds on Desi's concept of Accountability – Mindfulness – Compassion, to remind you that it's a daily practice.
I hope you find it useful in your growth and healing as a leader.
---
Ian Chisholm is a founding partner of Roy Group.
https://roygroup.net/wp-content/uploads/2021/11/s-migaj-Yui5vfKHuzs-unsplash-1200.jpg
758
1200
Roy Group
https://roygroup.net/wp-content/uploads/2019/06/RG-logo-small.svg
Roy Group
2021-11-09 19:02:25
2021-11-10 08:00:17
Start. Again. A Practice Of Accountability